Germany comes up with many sweet dishes that can be a dessert or will be enjoyed as a sweet main meal. One of these delicious recipes is the German Cherry Dessert or in German "Kirschmichel". You can use fresh or canned cherries. It's baked in the oven and is somewhat similar to the American dish peach cobbler. Serve this German dessert with home made vanilla sauce or vanilla ice cream. Happy Cooking!

Ingredients German Cherry Dessert
6 rolls or light wheat bread (preferably German)
1/2 liter milk
50 g butter
60 g sugar
3 eggs, separated
1 tsp lemon zest (organic lemon)
800 g cherries, fresh or canned sour cherries, no pits
1 tbsp cinnamon
1 package vanilla sauce Dr Oetker (see below photo) – How to make Vanilla Sauce –
2 tbsp sugar
Dr Oetker Vanilla sauce without cooking – Cold or Warm!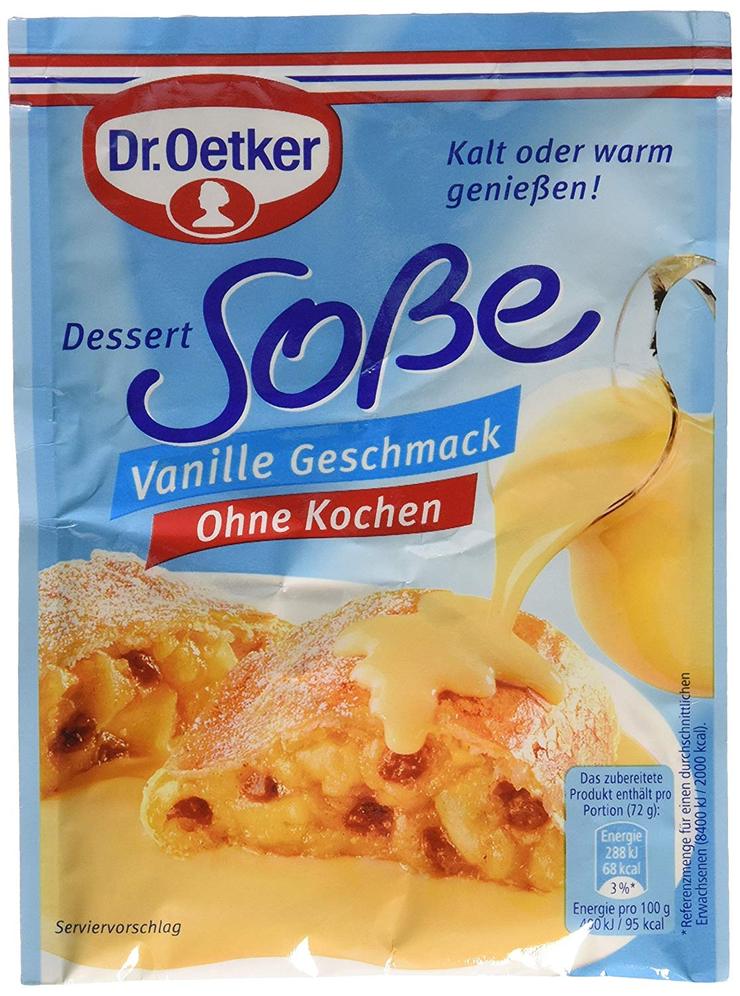 Cooking Instructions German Cherry Dessert
– Cut rolls in slices 3/4 inches thick, place in a bowl.
– Warm milk, pour it over rolls.
– Place half of the butter with sugar, egg yolks and lemon zest into a bowl, beat until foamy. Add to the rolls, mix  carefully.
– Fold in cherries.
– Beat egg whites firm, fold in.
– place dessert into a greased fire proof form.
– Sprinkle top with butter flakes and cinnamon.
– Bake in pre-heated oven on medium level for 45 min on 390 F.
Make vanilla sauce per instructions.
Serve the Kirschmichel with vanilla sauce or vanilla ice cream.