The German chicken soup recipe is popular all over the world, especially in Germany. We love to enjoy all kinds of soups, especially broths. The typical German menu normally starts always with a soup.  Either it is a chicken or beef broth with special inlays, such as Leberknoedel (liver dumplings), semolina dumplings, or just plain thin German soup noodles.
There is no substitute for a good German home cooked soup. The alternative are packaged soups and in Germany we have some good brands like Maggi or Knorr. These German soups don't contain any chemicals. But if you get them here in the USA the ingredients are different. They are not made in Germany, many of them come, I believe, from Mexico.
So these German Knorr or Maggi soups are very practical if you don't have much time. But keep in mind that these soups have to be "Made in Germany."
A homemade soup doesn't really take that long to make. Just cut the ingredients in small pieces, and combine them in one pan.  Preparation time is about 20 minutes and cooking time depends on the amount of chicken that is used (up to 1 hour or more).
It is practical to make a bigger amount of broth because any left over broth can be frozen. Just defrost the broth, add some pasta or vegetable and you can enjoy a wholesome soup. Happy Cooking!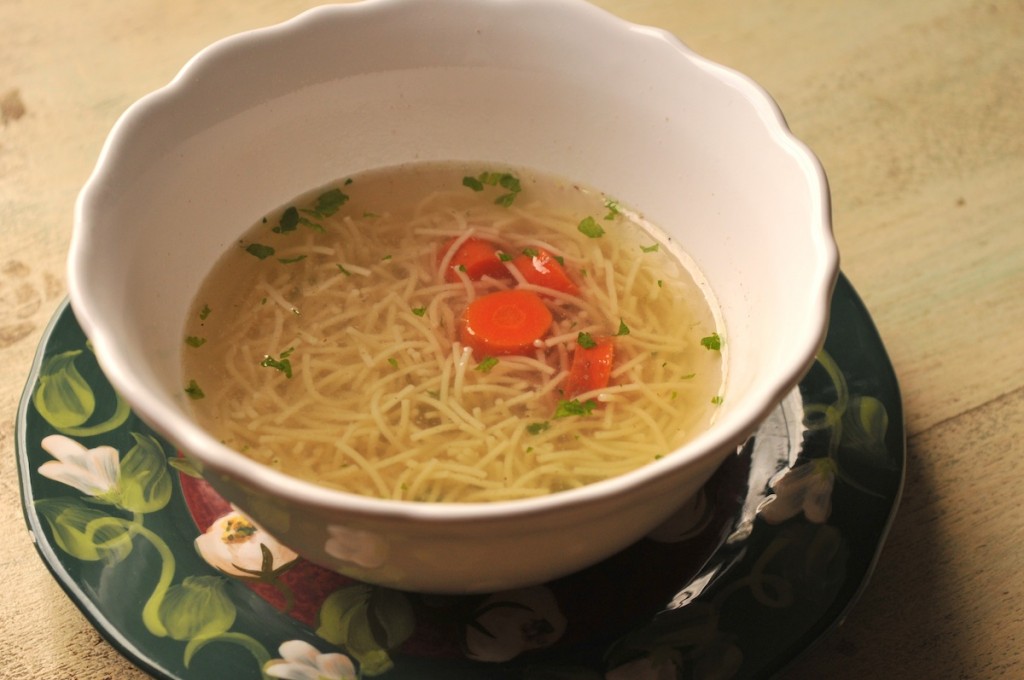 Ingredients German Chicken Soup
• 2 liter filtered, purified or spring water
• 3-5 chicken legs or wings, chicken breast, or 1 smaller chicken, fresh or frozen
• 1 medium size onion
• 2-3 cloves poked into the onion
• 1-2 celery stalk and 1/2 celery root
• 1 leek
• 2-3 carrots medium size
• salt, pepper, nutmeg to taste
• 2 bay leaves
• fresh parsley, chopped
For the Soup:
Use German Soup Noodles (Vermicelli). This is a special thin pasta that is cooked first in water and will be  be added to a broth or soup.
Old Fashioned Egg Noodles – Extra Thin, 340g – Helens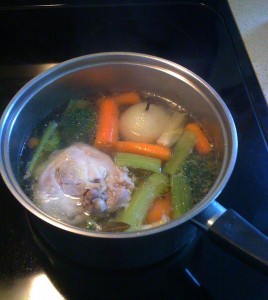 Cooking Instruction German Chicken Soup
– Wash the chicken, pat dry it with a paper towel.
– Put the chicken in a pot and cover it with cold water.
– Peel celery root, cut in cubes, cut stalk in 2-3 pieces, add with bay leaves to the water.
– Cut carrots in half, peel onion, cut it in 2 pieces and stick the cloves into the onions, add it to the broth.
– Boil it for about 1 hour on low heat, keep covered with a lid but not completely.
A Box for your special German Dinners delivered to your Door


NOTE: Using a whole chicken is extending the cooking time up to 2 hours.
– When the chicken meat is done, drain the broth, place chicken meat on a plate or board. Keep the carrots.
– Remove meat from bones.
– Cut carrots into small pieces and add them to the broth with the chicken meat pieces.
– In an extra pot bring water to a boil with some salt, add soup noodles (very thin noodles), cook them until done, drain noodles, add to the broth.
– Add salt, pepper and some nutmeg to taste.
– Before serving add fresh chopped parsley.
TIPS
– Don't add any other ingredients as mentioned.
– We recommend not to use tap water, it might contain too much chlorine.
– Instead of noodles you can enjoy the broth with tortellini, or add more vegetable which makes an excellent vegetable soup.
– The broth should look clear and not milky.
– You can add all the ingredients to the meat before the broth comes to a boil; I prefer it this way.
How to keep the Broth Clear
Use the kitchen always with cold water.
Bring the broth slowly to a boil; I use low-medium heat.
Then let simmer with the lid on top but just on one side.
If during the cooking process particles are floating on the surface, remove them with a ladle.
You can add the vegetable 1 hour before the chicken is done.
To reduce fat let the broth sit over night. The next day remove the fat, then drain through a sieve.
---