The German Creamy Fluffy Vanilla Pudding makes a great dessert but you can also use it for filling pastries or cakes. This variation of the classic vanilla pudding is a bit different, it's the fluffy and creamy version. Combine it with fruit of your choice, fruit sauces and whipped cream. Happy Cooking!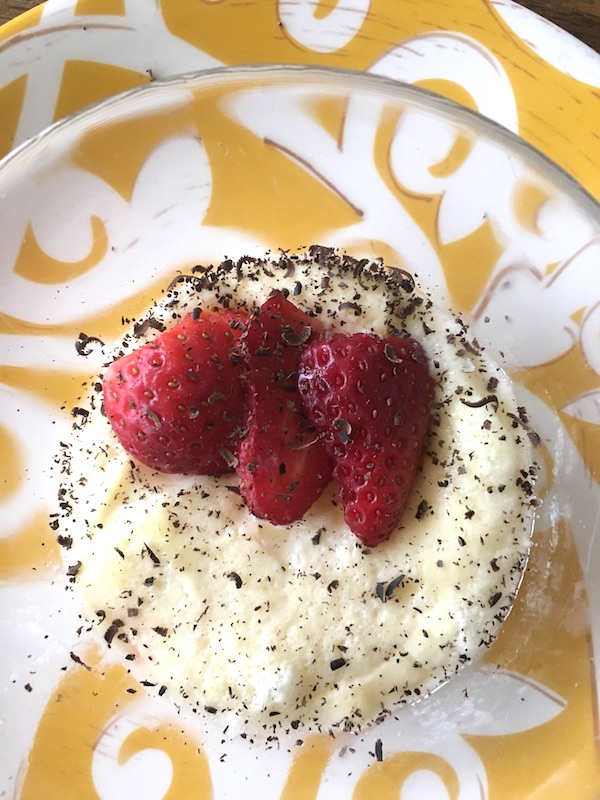 Ingredients German Creamy Fluffy Vanilla Pudding
1/2 liter milk
3 tbsp sugar or less
1 tsp vanilla sugar or 2 tsp vanilla extract  – How to make Vanilla Sugar –
2 tbsp corn starch (organic)
2 egg yolk
5 tbsp milk
2 egg white
grated chocolate and strawberry slices for decoration
Cooking Instructions German Creamy Fluffy Vanilla Pudding
– Heat milk – make sure it wont stick on the bottom of the pan. Rinse pan with water before adding the milk.
– Combine all ingredients except egg whites and decoration items.
– Mix very well so no clumps will be left. Reduce heat to low to medium.
– Add to the milk while stirring frequently. Don't bring to a boil.
– When milk thickens remove from heat, place into a bowl. Cover with plastic foil right away to avoid skin building.
– Meanwhile beat egg whites very firm – add a dash of salt which is enhancing firmness.
– When pudding has cooled off fold in firm egg whites.
Serve in small bowls, decorate with strawberries and grated chocolate.