Posted on November 19, 2018 by admin
The Christmas cookie Alpenbrot or Magenbrot is a small Lebkuchen (gingerbread) that is probably the easiest Lebkuchen to make. It does not need special ingredients. You can buy the Alpenbrot throughout Germany and if you would translate it,  it means literally "bread of the alps". We could not find any information for this name. Happy Baking!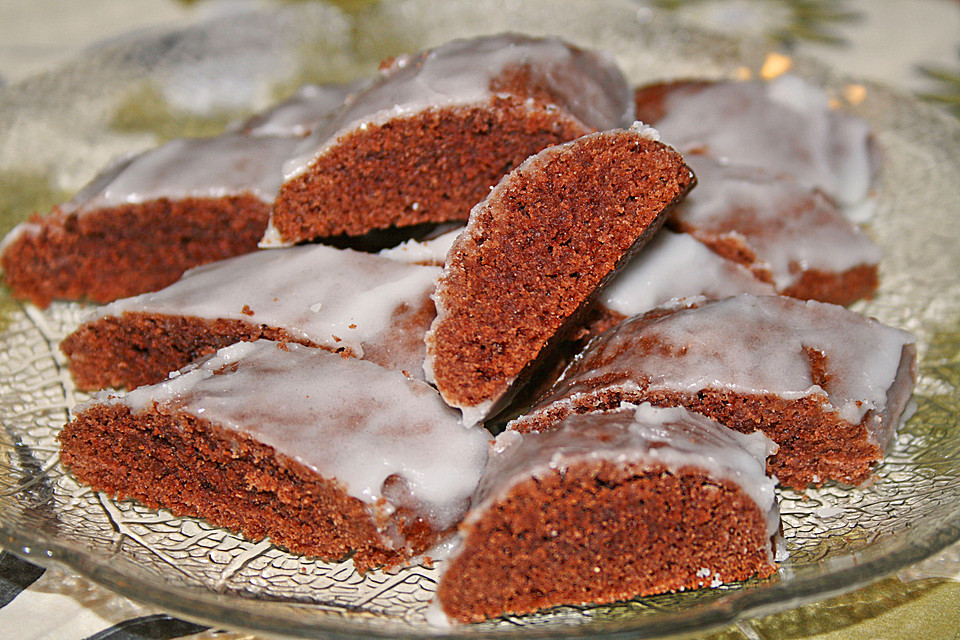 Ingredients Christmas Cookie Alpenbrot
Dough
500 g flour
250 g butter – soft
250 g sugar
2 eggs
1 tsp baking powder, Dr Oetker (not baking soda)
30 g cocoa, unsweetened
1/4 tsp of each: cinnamon, cloves, cardamom – all ground

Glaze
150 g powdered sugar
1 tbsp lemon juice
warm water
Baking Instructions Christmas Cookie Alpenbrot
Soften the butter then mix with sugar and beat until creamy.
Then add one egg  at a time, beat well for 1-2 min.
Mix flour with baking powder, add to dough, spoon by spoon while mixing.
You should get a dough that can be kneaded.
With hands knead until you get a smooth dough.
Divide dough in 6 parts, make a roll out of each part. One roll should fit a baking tray (horizontally).
Place 3 rolls on a baking tray.
Bake in pre-heated oven on 360 F for 10-15 min (convection), longer baking time if it is non-convection.
Meanwhile combine all glaze ingredients, mix with a fork.
When the rolls are done, right away spread glaze thick on rolls.
While rolls are still warm cut in 2cm wide stripes diagonally. Let cool off.
Keep them in a tin container and let sit for some days before you enjoy them.
Related