This German recipe is a variation of the schnitzel recipe. It is combined with Camembert. Schnitzel with Camembert is a great German dish for dinner and is easy to make. I am not sure where the recipe comes from but this combination of schnitzel, ham, Camembert and a Bechamel sauce is very good. Try it out, it's a great dish for the holidays. Happy Cooking!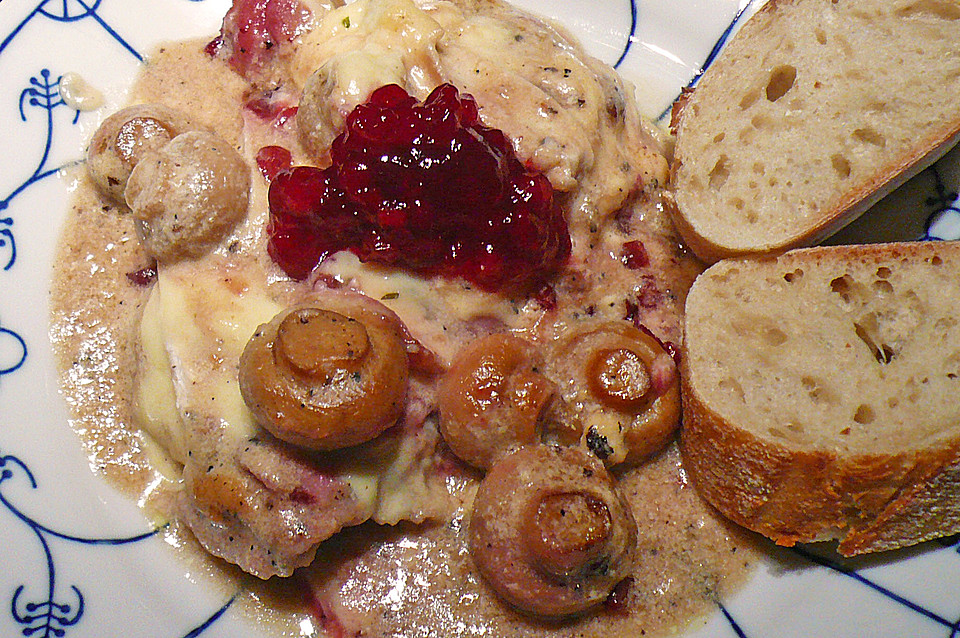 Ingredients Schnitzel with Camembert
(serves 8)
8 pork schnitzel
salt, grated pepper to taste
2-3 tbsp flour
4 tbsp oil
4 slices cooked ham
125 g Camembert
fresh or canned white or brown mushrooms
8 tsp cranberries or lingon berry sauce
Sauce
50 g butter
40 g flour
500 ml heavy cream
250 ml vegetable or beef broth (instant)
1 tsp German mild mustard
salt, pepper to taste
Cooking Instructions Schnitzel with Camembert
– Wash the meat, and pat dry; pound it with a metal tenderizer.
– Spice with salt and pepper.
– Turn each slice in flour.
– Heat oil in a skillet and fry Schnitzel briefly on all sides.
– Place the Schnitzel in a fire proof form.
– Cur sliced ham in half, cut Camembert in slices.
– Place first ham, then cheese on top of the Schnitzel.
Make the Sauce
– Melt butter, add flour, and while stirring saute flour until light golden, then add heavy cream and broth bit by bit while stirring.
– Whisk very well  to avoid clumping.
– Bring to a brief boil, reduce heat and let simmer for 4-5 min.
– Wash mushrooms, it they are small don't slice them, bigger ones slice. Canned ones rinse and drain.
– Add mustard, spice with salt and pepper, add mushrooms.
Pour the sauce over the Schnitzel slices and bake it in the oven (not pre-heated) for about 35 min on 320-350 F.
Before serving add 1 or 2 tsp lingonberry or cranberry sauce on top. Serve with pasta, fried potatoes or fresh bread.
photo source: chefkoch.de