This German Lemon Torte (layered cake) will be the high light of your coffee and cake table. It is a refreshing cake consisting of  2 layers, filled and surrounded by a lemony cream. Decorate this cake to your needs eg. you can use it for a birthday  or anniversary and customize it with numbers and the name. Happy Baking!
Ingredients German Lemon Torte
4 eggs separated
125 g sugar
1 package Dr Oetker vanilla sugar (0.3oz) – How to make Vanilla Sugar –
3 tbsp warm water
75 g flour
50 g corn starch
1.5 tsp baking powder
8 sheets gelatin (0.40 oz or 13.3g ground Knox gelatin)
300 ml butter milk
150 g sugar
zest of 1 organic lemon
110 ml fresh lemon juice
600-800ml heavy cream (depends on how much you want to spread around the cake)
Decoration:
pistachios, unsalted, chopped
lemon balm leaves (Zitronenmelisse) or super thin sliced lemons (don't use lime because they can leave a bitter taste after a while)
Springform 10 inches diameter (26cm)
Baking Instructions German Lemon Torte
Base Biscuit
– Mix egg yolks with water and 60 g sugar until foamy.
– Beat egg whites with vanilla sugar and 65 g sugar until firm, mix with egg yolks, fold in flour, baking powder and starch.
– Fill the dough into a spring form well greased or layered with parchment paper spring form (diameter 10 inches).
– Bake for 25 min on 350 F convection (375 regular oven).
Filling
– Dissolve gelatin. If you use sheets soak them for 7 min in cold water.
– Mix butter milk, sugar, lemon zest and juice.
– Remove gelatin from water and dissolve in a pan on low heat. Add  some of the butter milk cream, to even temperature. Gelatin has to be completely dissolved. Add remaining butter milk cream.
– Place the filling in fridge as long as it takes to get a little bit firm (you can see it).
– Meanwhile beat half of the heavy cream until firm.
– When cream is firm combine it with whipped cream, mix gently.
Make the Layered Cake 
– Cut the base biscuit horizontally in half, place a cake ring around it or the spring form that you used for baking.
– Spread half of the filling on the bottom half of the base cake, and place other one on top.
– Spread remaining filling evenly on it.
– Keep the cake for 4-5 hours in the fridge (or over night) so the cream can get firm.
– Decorate the cake with the pistachios, lemon balm leaves and whipped cream. Use a frosting bag to make little dots or lines.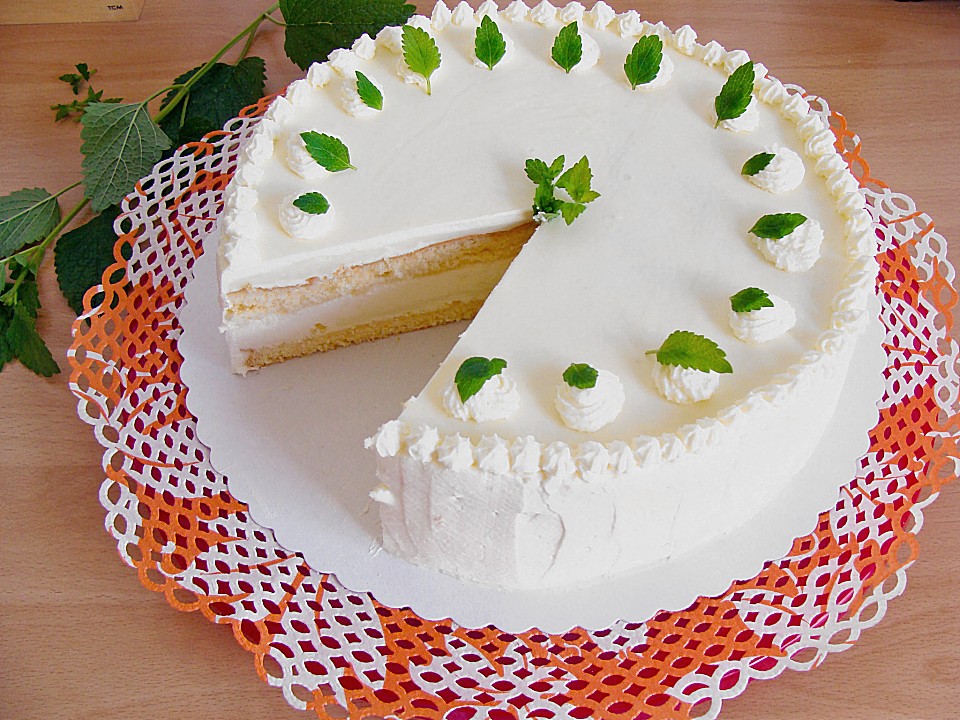 Note: Gelatin is used as sheets in Germany for baking. What is gelatin?
Gelatin is an odorless, tasteless and colorless thickening agent, which when dissolved in hot water and then cooled, forms a jelly. It's useful for many purposes such as jelling desserts and salads, thickening cold soups and glazing patés. Or for baking these creamy German cakes!
The packet below that you get on Amazon is a Packet of 6 sheets, totaling 10 grams/0.33 ounces, sufficient for 2 cups/500 ml of liquid (Product of Germany).
---