The German Green Pea Soup Cologne Style is a special soup recipe from the Rhineland. They call it "Ähzezupp", in high German "Erbsensuppe". This soup is ideal for fall and winter and tastes great with sausages. In the Rhineland they use the smoked Mettwuerstchen (Mett sausages) which we found at BavariaSausage.com. They can be out of stock as they are special sausages. In such a case use Brats, Kielbasa or Wiener sausages. Happy Cooking!
Ingredients German Green Pea Soup Cologne Style
500 g green peas, dry (whole or split)
3 medium size potatoes
2 carrots
1 leek
1/4 of a celery root
2 onions
salt, pepper to taste
10 branches parsley
1/2 tsp marjoram, dry or 2 branches fresh
1 bay leave
1 slice German Speck, bacon, (must have some fat)
4 sausages (recipe is using so called smoked Mett sausages)
1 tbsp German mustard
2 tbsp white wine vinegar
1/2- 1 liter vegetable broth – How to make Vegetable Broth from Scratch – or use organic instant broth cubes
The Perfect gift for someone you Love!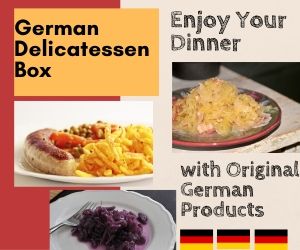 Cooking Instructions German Green Pea Soup Cologne Style
– Soak peas over night in 2 liter water.
– Next day cook peas on low heat in same water for at least 2 hours.
– Chop onions fine, slice carrots, leek, cut celery root in cubes, peel potatoes and cut in cubes
– Add to peas together with bay leave and marjoram; add some broth if needed.
– Let cook for another 15-30 min. Peas should be very soft.
– In a pan fry bacon with 2 tbsp of chopped onions and the slices sausages for 1-2 min (you can only fry the bacon crunchy if you like and add the sausages as whole to the soup)
– Chop parsley, with spices, vinegar and mustard add to soup.
– Bring again to a brisk boil.
Serve the soup with fresh bread and some butter!

source chefkoch.de