Peaches are in season right now and I got a lot of them at my local farmers market last Saturday. They were already ripe and I had to come up with an idea on what to do with them. I found a German recipes for a cake and also suitable for muffins. I decided to make the muffins.
Let me tell you this is a super easy recipe and these muffins are super delicious. You don't have to be a master baker to make these German peach muffin. I am sure I will bake the cake as well. Getting more peaches next weekend… Happy Baking!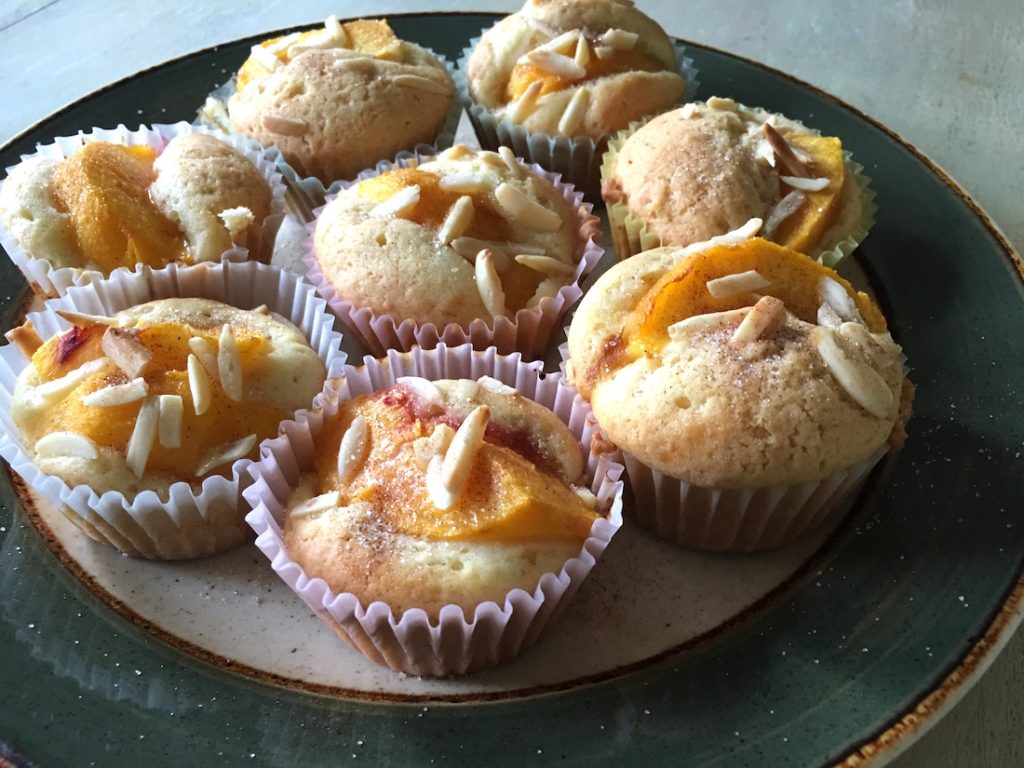 Ingredients German Peach Cake or Muffins
100 g sugar
fresh or canned peaches, amount depends on size; I used 2.5 medium sized ones for the muffins. For the cake I would use 4.
100 g butter – 1 stick
2 eggs
200 g flour, all purpose, unbleached – 1 1/3 cup
1 tsp vanilla extract
½ package baking powder (8g) or 0.28 oz
1 dash salt
almonds, slivered
mix of cinnamon and sugar
fresh or canned peaches
Baking Instructions German Peach Cake or Muffins
– Melt butter – don't bring to boil, it should be warm just a little.
– Add sugar, eggs and salt while mixing.
– Combine flour with baking powder, and add to the dough.
– Place dough into muffin forms (layered with paper muffin cups) or into a round 10 inch (26cm) spring form.
– If you use fresh peaches peel peaches first, then sprinkle with powdered sugar.
– Using canned peaches: Drain them and let drip.
– Spread whole peaches over the dough in the spring form.
– Cut peaches in slices for the muffins, and place some pieces on the dough.
– Sprinkle muffins with slivered almonds.
– Pre-heat oven to 350 F or 180 C.
– Bake on medium rack for 20-30 min. Do the tooth pick test to see if it's done.
– Let cool off when cake/muffins are done.
– Sprinkle cinnamon-sugar mix over cake or muffins.
---