German Pretzels are popular all over the world. In German it is called Bretzel, Brezl, or Breze, in Bavaria/Austria Brezn, in Vienna Brezerl, in Swabia  Bretzle. Since the 14th century the Pretzel is the symbol of the German bakers guild.
The most popular pretzel is the so called Laugenbretzel. It consists out of flour, malt, salt, yeast and water.
Before baking, the formed pretzel is dunked briefly (just some seconds) in a mixture of sodium hydroxide and water (ph 13-14).  It helps to bring about the brown color that will occur during the baking process. In German this mixture is called Natronlauge. It is responsible not only for the nice brown color but also for the unique taste.
This is what gives the pretzel its unique color and flavor. This is a proven recipe and the pretzel taste like from a German bakery. Happy Baking!
Read More about Baking Soda or Natron (in German only).
Ingredients German Pretzels
500 g flour (Type 550)
300 ml milk
1 tbsp salt
1 cube yeast or 1 package dry yeast
40 g butter
some coarse salt
1 Liter water
3 tbsp natron or baking soda
some flour for the baking board
---
The German SURVIVAL BOX with Non-Perishable Food Items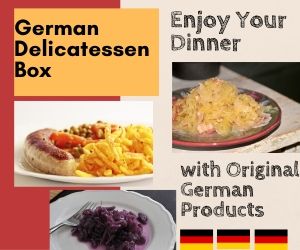 ---
Baking Instructions German Pretzels
– Combine yeast with some drops of milk and sugar; let raise for 15 minutes at room temperature.
– Mix this dough with salt, flour, milk and 40g butter; knead it until you get a smooth dough. Let it raise again for 1/2 hr at a warm place. The dough should double.
– Sprinkle flour on a baking board and knead thoroughly with your hands, then form a roll and cut it in 16 to 18 parts of the same size.
– Of each dough piece make a 30cm long roll; the ends should be thinner than the middle.
– Form pretzels and let them raise for another 15 minutes.
– Place it in the fridge and let it rest for 1 hour. Before the hour is over bring 1 liter water to a boil and dissolve 3 tbsp baking soda (not at once, slowly because the soda will cause the water to become quite bubbly).
– Place each pretzel into the boiling soda water for about 30 seconds; with a slotted spoon take them out, let them drip and sprinkle coarse salt on top.
– Place them on a greased baking tray (don't use baking paper), and bake them for 18 minutes on 220 C  or 425 F – don't pre-heat the oven.
– They are done when they show a golden brown color.
Ingredients in US metrics
For the Dough:
4 3/4 cups bread flour
1 of each: package dry yeast – 1 tsp sugar – 1 tsp salt – 1 cup somewhat warm milk
For the Soda Water:
4 cups water
1 tbsp salt
1 tbsp baking soda
coarse salt