What to do with left over rice? There are different options: One is to make fried rice, the other one is making a salad. The German rice salad is simple and easy. You don't need any special ingredients. If you are looking for a party salad, this is a good choice. Make the salad the day before and keep in fridge until the party starts. Happy Cooking!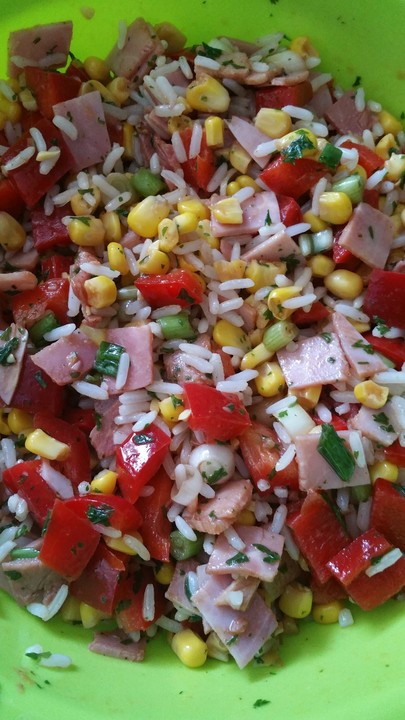 Ingredients German Rice Salad
(serves 4)
1-2 cups Basmati rice
4 spring onions or 1 small onion
1 red pepper and 1 small can of sweet corn
boiled ham (optional)

Dressing
3 tbsp of each sunflower oil and white wine vinegar
salt, pepper to taste
1 dash nutmeg
2-3 tbsp chopped parsley
1 tsp lemon juice
Cooking Instructions German Rice Salad
– Boil rice until al dente – the rice should not be mushy. The best is to use Basmati rice. Never use risotto or round corn rice.
– Drain rice and let cool off completely.
– Chop onion fine, cut thin slices of spring onions.
– Cut ham and red pepper in small cubes.
– Mix all together in a bowl. Add sweet corn. Mix again.
– Combine all ingredients for the dressing and mix very well.
– Let salad sit for at least 30 min so all flavors will blend nicely.
Variations & Options
– Add fresh or frozen peas, chopped hard boiled eggs, black olives, chopped pickles, or any other colored pepper.
– If you decide to use cucumber, tomatoes or radishes, add them just before serving.
– Use different herbs such as chives, a bit of thyme or oregano, or a hint of sage and basil.
– Use Curry, Cayenne pepper and Turmeric for an exotic taste and combine with pineapple and mango.
photo source: chefkoch.de