German Semolina Pudding (or some call it Cream of Wheat) – in German "Griessbrei" – is a typical German delicious dessert or even a main dish with apple sauce or other fruit, or just with sugar and cinnamon. It makes a great breakfast.
What is Semolina?
Semolina as the "coarse, purified wheat middlings".  So this is the gritty by-product that gets sifted out when wheat is milled to make flour. Or in other words:  It is the heart of the wheat kernel or also known as the endosperm.  Sounds healthy as it contains iron, vitamin B and selenium. That's why we feed the Germany babies and children semolina. Happy Cooking!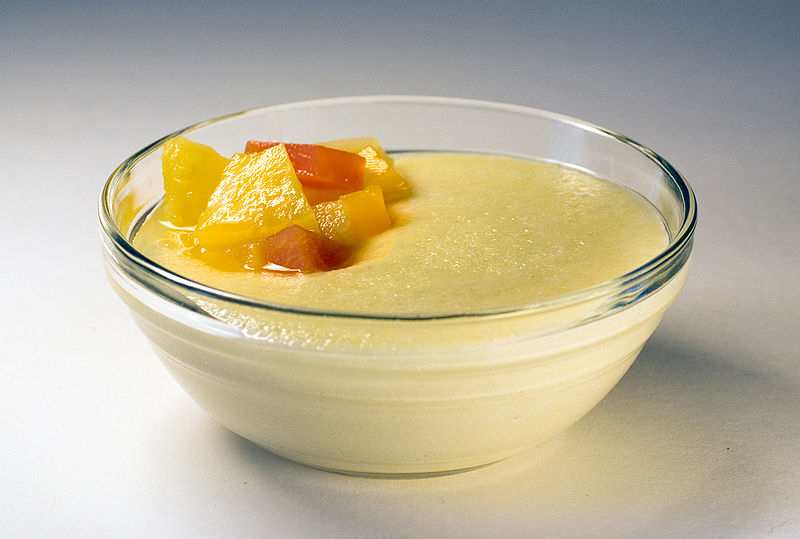 Ingredients German Semolina Pudding
1/2 liter milk
100 g semolina soft wheat – Weichweizengriess
sugar to taste and/or 1 package of Vanilla sugar
1 tsp liquid vanilla
cinnamon-sugar mix
Fruit to add:
Sour cherries (from the jar, de-pitted)
Peaches fresh or from the jar
Strawberries (cut them in pieces, add a bit of sugar if needed, then add to semolina pudding)
Pear halves (fresh or jar)
All kinds of frozen fruit
Apples:
– stewed fruit
– apple sauce
– apple puree
Cooking Instructions German Semolina Pudding
– Pour the milk into a pan and heat it up on low-medium heat. The milk should not settle on the bottom of the pan.
– Check if milk is warm, if so, stir in the semolina – Mix well by using a wire whisk.
– Add the sugar and keep it on low heat until milk and semolina become creamy like a pudding.
– Fill into bowls.
If you want you can buy semolina in a package and use it per the instructions.
---