If you ever had been visiting the German City Rotheburg ob der Tauber you probably have visited the bakery where they make the German Snowball Pastry BUT only during winter! In German: Schneeball.
Schneeball means snowball in English, and is a pastry made from shortcrust dough. The name comes from the form of a snowball which will be dusted with powdered sugar.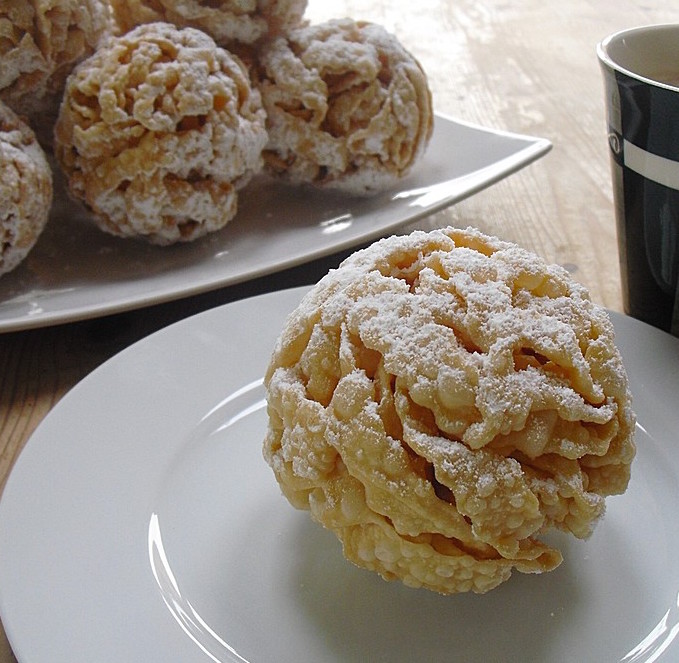 History German Snowball Pastry
This pastry is known in the regions of Franconia and Hohenlohe (northeast of Baden-Württemberg) since more than 300 years. In the past they served the snowballs at celebrations such as weddings or the "Kirchweih" a yearly fest of religious character.
In Rothenburg there is a bakery Named Walter Friedel which sells the original snowballs  – Go to the Bakery Website – The snowballs are the signature dish of Rothenburg and are of course the most popular souvenir.
The Recipe
We found a recipe to make the snowballs but you need a special tool, a so called "Schneballeisen". It is not available in the USA as it is so special. The tool allows the round forming and it is like a tong but round. If you dont use that snowball tong, the pastry will not be round and will fall apart. After the dough is made it will be cut in stripes and placed into the tong which forms and bakes it round in hot oil. It's a deep-fryer pastry.
Find it here on Amazon.de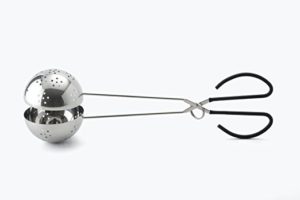 Here is the trick to make the snowball pastry without the tong. Use a round extra large tea infuser which can be used to form the balls. Genius! Happy Baking!
Ingredients German Snowball Pastry
4 egg yolk
2 eggs
9 tbsp heavy cream
1 tbsp sugar
2cl Kirsch Schnaps
1 dash salt
750 g flour
clarified butter, refined coconut oil or sunflower/canola oil for deep frying
Baking Instructions German Snowball Pastry
Heat oil to 180 c or 370 F (test: stick a wooden spoon into the oil and you will see little bubbles floating to the surface).
Make a dough by combining all ingredients. Knead until the dough is smooth. Place for 30 min (or over night) in the fridge.
Roll the dough to squares or circles (8 inches diameter).
With a dough roller roll stripes into the dough but they have to stop 1/2 inch before the dough ends.
With a wooden spoon take up the stripes alternating (they show it in the video). It's like weaving, take up every second stripe.
Lift the spoon and form a ball. Place into the snowball tong.
Deep fry the balls for 6 min in the hot oil.
Place the balls on kitchen paper, dust thick with powdered sugar or a mix of sugar-cinnamon.