German Soups are awesome! One classic German soup is the "Steinpilzsuppe" or Porcini soup. The fall season is mushroom season in Germany and especially in Bavaria you can find this great mushroom, the Boletus, Porcini or Steinpilz in the forests. Porcini is the most popular of the boletus mushrooms.
Varieties in addition to the porcini mushroom are red and yellow bolete, white king bolete, butter bolete, ragger's bolete, and painted slippery cap. However, porcinis are definitely the most desirable for cooking and eating. They have an earthy, rich and deep flavor and are used for sauces as well. If you cannot get fresh porcini the dried ones are as good. This is a classic German recipe for a porcini soup – Happy Cooking!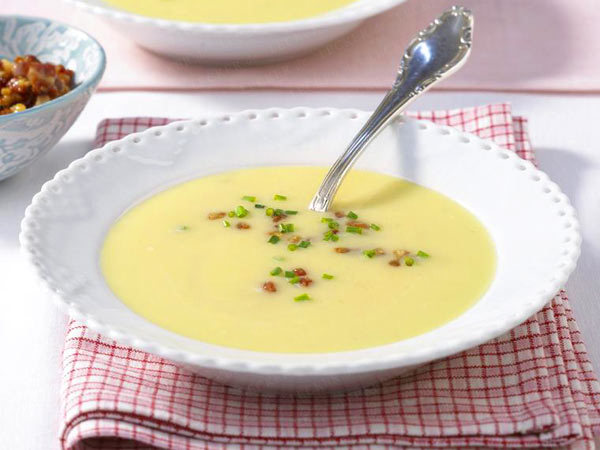 Ingredients Porcini Soup
30 g porcini, dried
800 ml hot vegetable broth
50 ml dry white wine
1 small onion or 1 chalotte onion
1 tbsp ghee (clarified butter)
1-2 potatoes (floury)
2 egg yolk
100 ml heavy cream
salt, pepper, nutmeg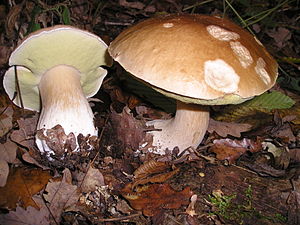 Cooking Instructions Porcini Soup
(serves 4)
– Wash mushrooms, then soak them for 1 hour in hot vegetable broth or hot water
– Peel, chop onion and potatoes.
– Drain porcinis and add the water to the broth.
– Cut porcinis in very fine pieces.
– Melt ghee, saute onion and porcinis until transparent, add white wine and then the broth; add potatoes.
– Let simmer for about 20-25 minutes.
– Puree the soup. Let cool off a bit.
– Mix egg yolk with heavy cream and fold it into the soup (don't bring it to a boil anymore).
– Spice with salt, pepper and nutmeg to taste.
– Sprinkle with chopped parsley and serve with fresh bread.