Easy to make German Red wine cake. Mix all ingredients, pour dough into a form, bake, and finally dust it with sugar. It's  agreat cake just with a cup of coffee or for the holidays. Happy Baking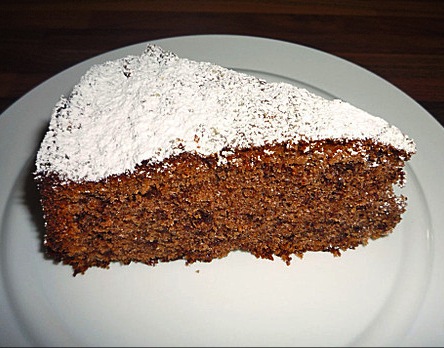 Ingredients German Red Wine Cake
180 g butter, unsalted
220 g flour
150 g powdered sugar
1 tsp baking powder (Dr Oetker)
2 tbsp cocoa, unsweetened
1/2 tsp ground cinnamon
1 tbsp vanilla sugar – How to make Vanilla Sugar –
100 g chocolate flakes (about 1 cup)
1/2 cup Red Wine – 125ml
4   eggs, separated
some Confectioner's Sugar or powdered sugar
Baking Instructions German Red Wine Cake
– Separate eggs. Beat egg white until firm. Set aside.
– Combine warm butter and eggs yolks. Mix with hand mixer until creamy.
– Mix flour with baking powder.
– Add flour, cocoa, cinnamon, vanilla sugar, powdered sugar (all dry ingredients) to the egg-butter mix, then the red wine and firm egg whites. Mix well with a wooden spoon or spatula.
– Place batter into a greased spring form, or use a pound or Bundt-cake form.
– Bake in pre-heated oven at 150 – 175 C
(300- 350 F ) for about 50 min.
After cake has cooled off dust with the confectioner's sugar or powdered sugar.