What a delicious cake! This German super moist apple cake is been made with the vanilla cream and whipped cream. All combined in  one cake! Try this cake out and you will bake it over and over! If you cannot get ground hazelnuts, you can get them as whole and grind them in your coffee maker. Alternatively use almond flour. Happy Baking!
Ingredients German Super Moist Apple Cake
150 g butter, soft
125 g sugar
5 eggs
125 g hazelnuts, ground or almonds
50 g flour
2 tsp baking powder (not baking soda)
1 tsp cinnamon
800 g apple, grated
1/2 cup sugar (or less)
juice from 1 lemon
2 tsp vanilla extract
2 tbsp vanilla pudding, Dr. Oetker or corn starch
100ml heavy cream
cocoa powder, unsweetened
---
Do you know how to Make Poppy Seed Strudel? Here is a Baking Mix for You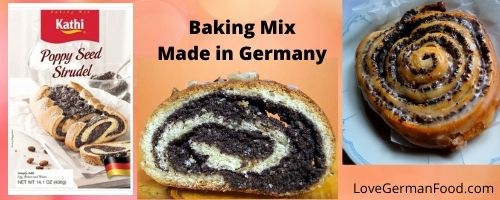 ---
Baking Instructions German Super Moist Apple Cake
Combine butter, sugar, 3 eggs, hazelnuts, flour, baking powder and cinnamon. Mix well with the hand mixer.
Fill into a very well greased spring form (10 inches), spread top even with a spatula.
Bake for 30 min on 160 C or 350 F.
Peel, remove cores, then grate apples.
Beat eggs in a bowl.
Combine eggs with apples, lemon juice, vanilla extract, sugar and vanilla pudding powder in a pan. Bring to a very brisk boil while mixing several times.
Let cool off a bit. Spread evenly on the baked cake.
Place cake in fridge for at least 30 min. The cream should be somewhat firm.
Beat heavy cream until firm.
Spread whipped cream on top of the cake, even out with spatula. Release from the form.
Dust top of the cake with cocoa powder. You can also use stencils and create some forms such as hearts or  stars.
---