Homemade mayonnaise is very easy to make. This mayonnaise is complete natural and so much healthier than the one from the shelf. No additives, no preservatives and high fructose syrup! Actually it is so easy to make that I asked myself: Why did I buy mayonnaise all the times?
It gets really easy with a stick mixer and is done within some minutes.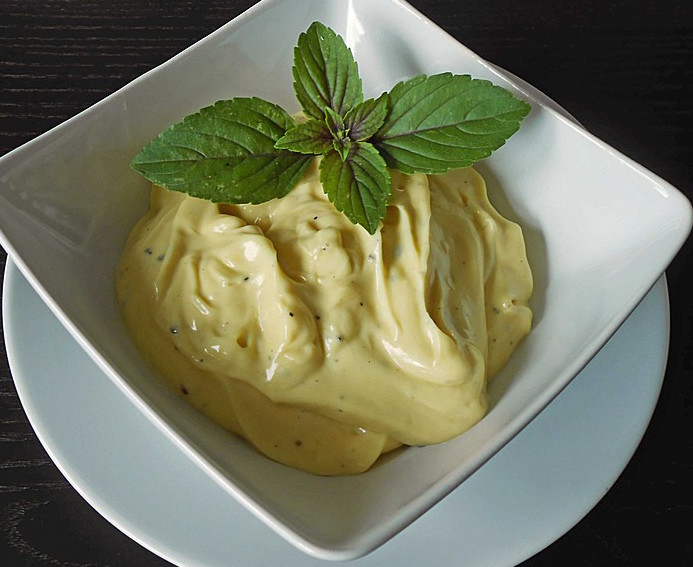 Ingredients Basic Homemade Mayonnaise Recipe
250 ml sunflower oil
1 egg –  1 tbsp vinegar – 1 tbsp mustard
salt and pepper to taste
Cooking Instructions Basic Homemade Mayonnaise
– Important: All ingredients should be having room temperature, don't use them directly from the fridge.
– Combine all ingredients into a mixing bowl.
– Place top of stick mixer on the bottom of the bowl, then turn it on. Don't turn it on and mix it.
– Mix it for a while when you see that there are thicker parts at the edge of the bowl; turn it off and release.
If you like you can add 2 tbsp quark or sour cream which adds some "light" touch to the mayonnaise.
---

Vegan Mayonnaise Recipe
50 ml soy milk, natural
150 ml sunflower oil or any neutral oil
salt and pepper to taste
optional: garlic cloves, vinegar, mustard
Mix soy milk and oil with a stick mixer until it is creamy then add the spices as desired.
---
Mayonnaise with Cashew Nuts
225 g Cashew nuts, unsalted
55 ml water
1 tbsp German mild/medium mustard
2 garlic cloves
salt and turmeric
1 tbsp oil -if needed
Soak cashews in water for at least 1-2 hours. The nuts should become really soft so you can mix them with all other ingredients by using a stick mixer. Mix them until you get a smooth cream. Place for 5 min in fridge and then enjoy this exotic mayonnaise.
---
Traditional Mayonnaise
2 egg yolks
1 tbsp lemon juice
1 tbsp mustard medium
300 ml sunflower oil
salt, white pepper to taste
Cooking Instructions
– Have all ingredients at room temperature.
– Mix egg yolks, lemon juice, mustard, salt and pepper very good, then add the oul first drops then a thin stream while whisking continuously. You will see when everything goes right that the cream gets thicker and thicker. At this point it is done. Spice if necessary a bit more.
Tips
– If the milk won't mix with the oil add a little bit of lemon juice.
– Make sure the ingredients have room temperature.
– add some fresh herbs like basil, parsley, chives, thyme or rosemary to the mayonnaise.