This is an authentic German potato salad recipe from the South of Germany, Swabia, the region around Stuttgart, Freiburg and Karlsruhe. Every traditional inn or restaurant (Gasthaus) serves this potato salad either in combination with a mixed salad or just plain. We call it in German "Kartoffelsalat".
This German potato salad recipe is one of my favorite salad recipes. My mother used to make the best German potato salad.  She would boil the potatoes, then let them cool off completely before she sliced them. This is the trick.
Of course German potatoes are different and you buy special potatoes for potato salad. Per my experience the Gold potatoes are the best for this salad. Every time I used Russet potatoes it failed to be a good salad. Make sure the potatoes don't get too soft. For the German potato salads the potatoes will be peeled after they had been cooked. The best is to peel them when they are still warm. Happy Cooking!
Ingredients German Potato Salad Recipe
(serves 6-8)
1,5 pounds cooked potatoes (preferably Gold potatoes, yellow)
500 ml beef or vegetable broth – How to make Vegetable Broth –
1 medium sized onion
1/4 cup sun flower oil (taste neutral oil)
1 tbsp German mustard (optional)
1/4 cup vinegar (white or red wine vinegar, preferably German vinegar, see below)
salt, pepper, nutmeg to taste
chopped parsley or chives
---
LANDJÄGER – The Ultimate Survival Snack – High Quality Meat Sticks
---
Cooking Instructions German Potato Salad Recipe
– Boil potatoes with skin.
– While potatoes are boiling chop onion finely, place into a big bowl.
– Combine inions with oil, vinegar and mustard, mix well.
---

– Pour 250ml (half of the amount) HOT beef or vegetable broth (use instant powder or make it from scratch) over it.
– When potatoes are done remove them from the water, peel,  and let cool off.
– Cut into very thin slices (potatoes must not be hot).
– Add them to onion broth and mix well with a wooden spoon.
– Add more broth if necessary; the salad should NOT be too dry (you should hear a smacking sound while mixing) and should NOT be swimming in broth.
– Add salt, nutmeg and pepper to taste.
– Let salad sit for some time to see if it will be still moist (potatoes soak the liquid fast), add more broth if needed.
– Add the chopped parsley or chives on top.
This German potato salad tastes delicious as a side dish with the famous German "Wienerschnitzel", Leberkäse, Hot dogs, Wiener sausages, Bratwurst, Bockwurst, Weisswurst, or fish fillet. Makes a great side dish for a summer BBQ.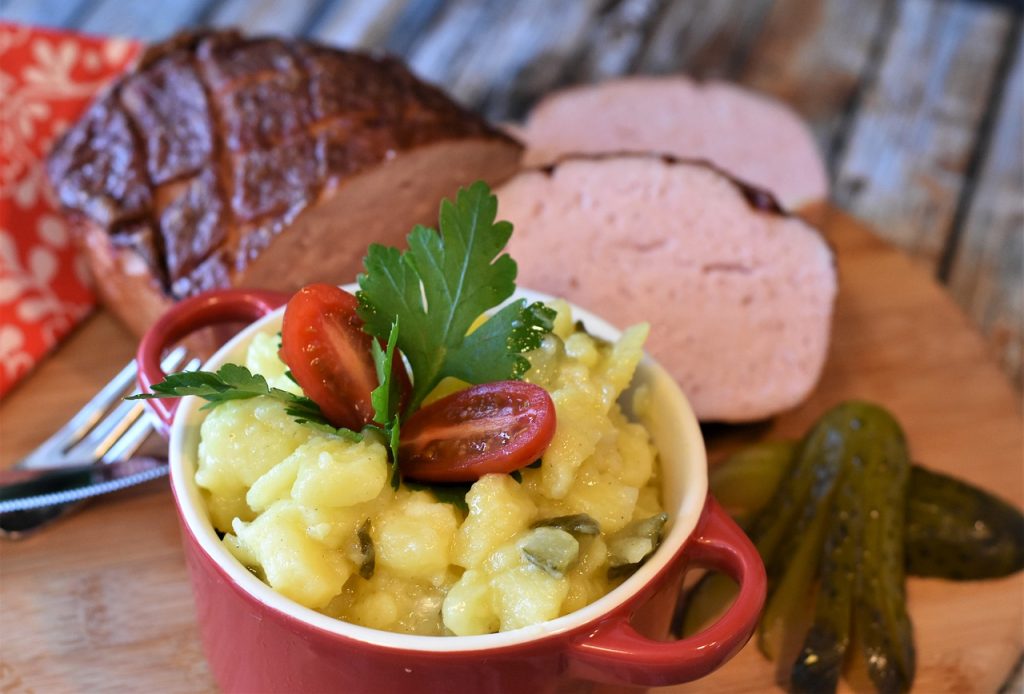 TIPS
– Buy the yellow potatoes; if possible use organic potatoes. Don't use soft and floury potatoes as they will get too mushy such as Russet.
– Using home made broth would be the best or bouillon (cubes) Made in Germany without MSG.
– Don't use chicken broth.
– Mayonnaise is not an option for this salad.
– Always peel the potatoes when they are cooked. And never use them with the skin on.