The German Poppy seed cake has a delicious filling that is made out of vanilla pudding and poppy seeds, with a layer of Streusel on top. The best is to get the German poppyseed filling from Dr. Oetker. You can use this filling for many other desserts, pastries and cakes. Happy Baking!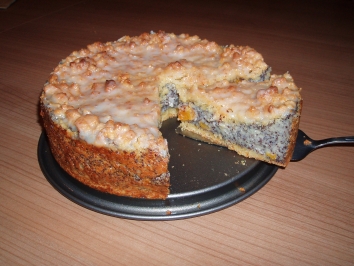 Ingredients German Poppy Seed Streusel Cake
70 g Butter
130 g flour
70 g sugar
1 egg yolk
peel of 1/2 lemon (organic)
375 ml milk
1 package vanilla pudding Dr Oetker
1 small can apricots (about 300 g) or canned mandarins (unsweetened)
1 egg white
1 package  Dr. Oetker poppyseed filling (Mohnback, 250g)
– Find it online: Dr. Oetker Mohnback 250g – Poppyseed Filling 8.8oz
–
70 g powdered sugar
2 tbsp lemon juice
Baking Instructions German Poppy Seed Streusel Cake
– Grease spring from and heat oven to 200 C or 350 F.
– Drain apricots.
– Melt butter and knead with flour, sugar, egg yolk and lemon peel to  a crumbly dough (Streusel)
– Place half of the Streusel into the spring form and press them onto the bottom; the entire bottom should be filled and around the rim as well.
– Beat egg white until firm.
– Cut apricots into small pieces.
– Mix pudding powder with 6 tbsp milk and mix until smooth. Bring milk to a boil and add pudding powder. Bring to a brisk boil, then set aside. Stir and let cool off a bit.
– Mix poppy seed filling with pudding (bit by bit), then add apricots or mandarins, last step add the firm egg white and fold in carefully with a spatula.
– Fold pudding-poppy seed cream into the spring form form and spread it even.
– Sprinkle with remaining Streusel.
– Bake for 45 minutes. To prevent Streusel from browning place a sheet parchment paper on top.
– Let cake cool off.
– Remove cake from the form.
– Mix powdered sugar with lemon juice and spread on top of the cake.
Convenient Poppyseed Strudel Baking Mix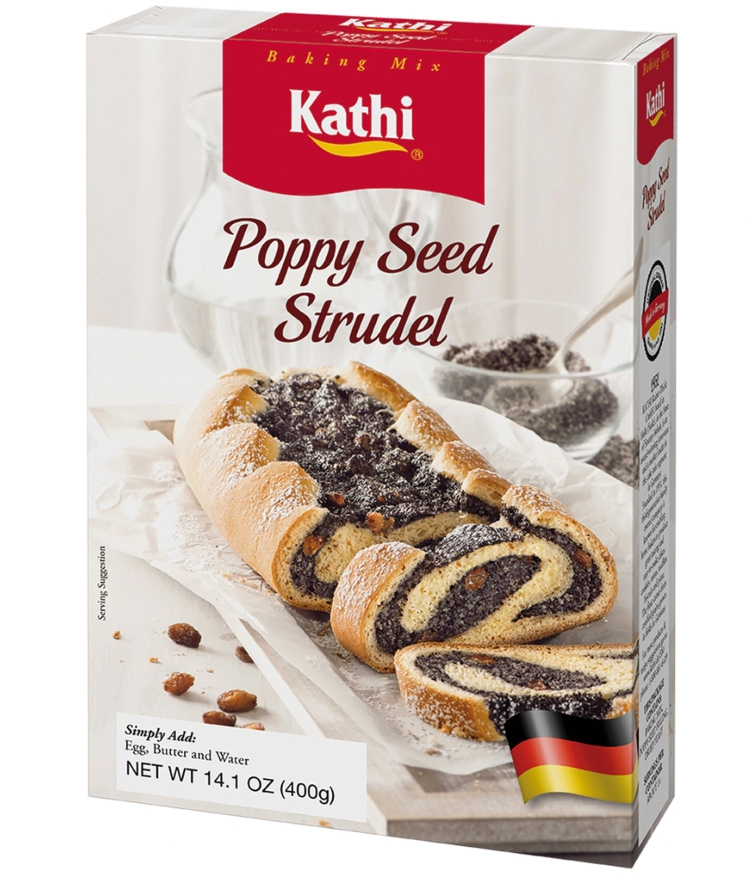 Poppy Seed Filling
If you cannot find the poppy seed filling here is a recipe of how you can make it from scratch:
Ingredients for 2 Cups of Filling
1/2 pound poppy seeds (250g), ground
1 cup milk (150ml)
1/4 cup butter
1/4 cup sugar (80g)
1 dash salt
Cooking Instructions Poppyseed Filling
– If not already ground, grind the poppy seeds in a mill or use a coffee grinder.
– Combine the milk with butter, let butter melt, then remove from oven.
– Cook on low heat, stirring often, until the sugar has dissolved.
– Gradually pour in the sugar and poppy seeds, stirring it frequently until you get a sticky mass (the filling should never be liquid); it should stick on a spoon when you turn it.Set aside or store it in the fridge for up to 5 days.