You will like this semolina dessert with mango. In Germany semolina is used for many cakes, desserts and main dishes. This recipe is great for a brunch or as a dessert. It can be made fast, and you can add sugar, honey, various fruits, cinnamon or other spices. Happy Cooking!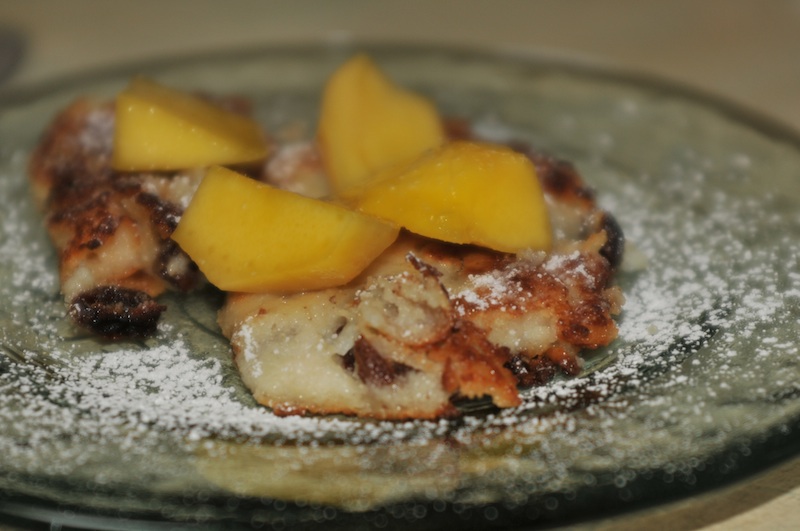 Ingredients Semolina Dessert with Mango
(serves 4)
800 ml milk
1 package vanilla sugar Dr Oetker, 0.5oz – How to make Vanilla Sugar –
4 tsp sugar, dash of salt
2-3 tbsp raisins
140 g fine grated semolina
1-2 mango (fresh or canned)
oil, butter to fry
powdered sugar
Cooking Instructions Semolina Dessert with Mango
– Bring milk with vanilla sugar, salt, sugar and raisins to a boil.
– Stir in semolina  and let cook for 1 minute while stirring.
– Spread the mix on a baking tray – place a layer of parchment paper on it or rinse it with cold water so the semolina will not stick to the surface.
– Let cool off or place it for 10 minutes in the fridge.
– Peel fresh mango and cut it into cubes. Canned mango: Let the fruit cubes drip in a strainer.
– Separate semolina with a spoon into pieces that can be easily fried in a skillet.
– Heat oil and butter together in a big skillet (Teflon)  and fry the semolina pieces first on one side, then turn them and fry the other side (each side about 4-5 minutes on medium heat).
– Serve the fried semolina pieces on a plate, place mango on top and dust with powdered sugar.