The strawberry season has started and there are plenty German recipes with strawberries. One of these recipes is the strawberry mousse. Made out of fresh strawberries and combined with yogurt and heavy cream it is a delightful dessert. See if we are not exaggerating. Make it and let us know. Happy Cooking.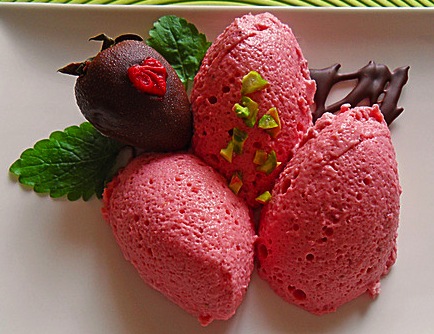 Ingredients Strawberry Mousse
750 g strawberries
3 tbsp orange juice
120 g sugar
450 g Greek yogurt, natural
9 sheets gelatin (or 0.5oz)
400 g heavy cream
Cooking Instructions Strawberry Mousse
– Wash strawberries, cut off leaves and keep some for decoration.
– Puree strawberries with orange juice, yogurt and sugar (for about 5 minutes)
– Soak gelatin in cold water and melt it on low heat. Let cool off a bit.
– Spoon by spoon add gelatin to strawberries.
– Keep it in the fridge until it is semi firm.
– Beat heavy cream until firm.
– Add it to the strawberry cream, mix it.
– Place it again in the fridge until it is completely firm.
– With a spoon take out some scoops and decorate them on a plate with some strawberries and mint leaves.
– You can add a chocolate covered strawberry too if you like; just melt some dark chocolate and dip the strawberries, dry them on wax paper.
– Sprinkle one scoop with some chopped pistachios.
– Keep it simple: Serve it in a glass bowl so everyone can take out as much as they like.