What is a Weckmann? The Weckmann out of yeast dough is a sweet bread that is also called "Stutenkerl, Grittibänz or Klausenmann", baked especially in the holiday season from North to South. The following recipe is a universal recipe, and can be used for all kinds of other bread and bun specialties. You can make raisin rolls or braided sweet bread (Zopf), or use it as the base for an apple or plum cake with Streusel. There are many variations. In Germany the Weckmann comes with a traditional pipe which we could not find anywhere in the USA. Happy Baking!
Ingredients Weckmann
The dough is good for 15 sweet buns, 15 raisins buns, 8 Weckmänner or 1 sweet braided bread (Zopf).
500 g flour, all purpose, wheat
60 g butter
60 g sugar
7 g salt
35 g fresh yeast (see below) or 1 package active dry yeast
200 ml milk
1 egg
1 egg yolk for glazing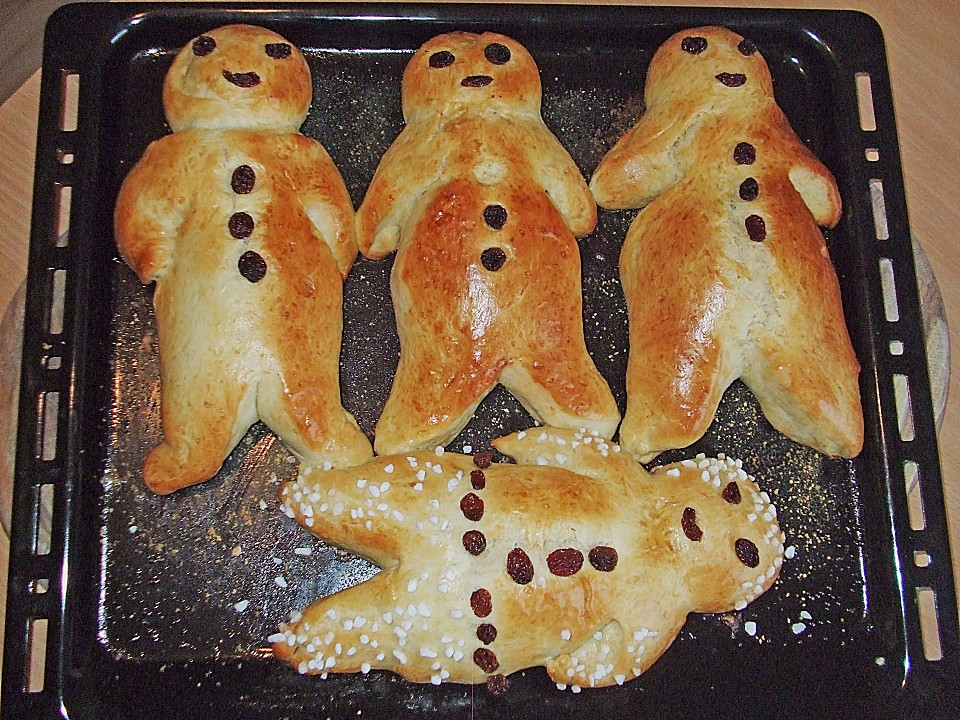 Baking Instructions Weckmann
– Place flour into a bowl, add warm milk and mix in yeast, mix a bit with flour then let raise for 15 min.
– Add other ingredients and knead until dough is smooth and not sticky.Form to a ball.
– Let dough ball raise for another 20 minutes, covered and at a warm place.
– Knead again on a baking board and form the Weckmen: Use raisins for the eyes and buttons, place them on a baking tray layered with baking paper, let sit for another 20-30 min.
– Beat egg yolk and with a baking brush, brush it all over the dough, the Weckmen or whatever you are baking.
– Preheat oven to 220 C or 350 F and bake for 10-40 minutes (time is depending on what kind of bread you are making).
TIPS
– If you want to bake raisins buns mix about 120 g raisins to the dough.
Make the dough the night before. Place dough buns on a baking tray and keep in the fridge, cover it with a moist kitchen cloth. Bake in the morning and enjoy them fresh for breakfast.
– Use the dough as base for a prune or apple cake that will be baked on a deep baking tray.
Fresh Yeast vs Dry Yeast Measures
1 package dry yeast (7 g) equals 1/2 cube fresh yeast (21 g)
2 packages dry yeast (each 7 g) equals 1 cube fresh yeast (42 g)