The German Weckmann Sweet Bread for St Martin's Day is an old German tradition. Plural of a Weckmann would be Weckmänner, and there is no direct translation. It's sweet bread formed to a Nikolaus type figure. In some regions the Weckmann is not a figure, it's a roll. Another name would be Stutenkerl, Klausenmann, Grittibänz (Swiss) or Dambedei.
You can make them either for Nikolaus Day (Dec 6) or for St. Martin's Day (Nov 11, especially in the Rhineland). There is a parade and children love it because they can carry the lanterns in the darkness. Every child gets  a goodie bag which includes a Weckmann.
These sweet bread figures represent also the Saint Nikolaus, and you can get them at that time in every German bakery which include a clay pipe. Unfortunately I was not able to locate a seller for these clay pipes in the USA. I guess you have to make the Weckmänner without the pipe. Happy Baking!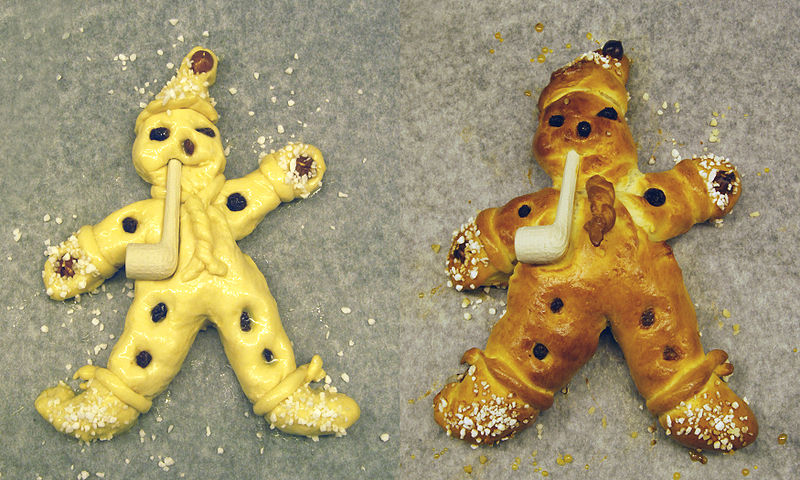 Ingredients German Weckmann Sweet Bread
(for 4-6 Weckmänner)
250 g Quark (or 125 g sour cream and 125 g cream cheese)
1 egg
125 g sugar
1 package vanilla sugar, 0.5oz) – How to make Vanilla Sugar – 
1 package baking powder Dr Oetker, 0.3oz  – Find it here –
400 g flour
raisins, egg yolk
Baking Instructions German Weckmann Sweet Bread
– Mix flour with baking powder.
– Mix quark, egg, vanilla sugar and sugar, then add the flour. Knead it until you have a smooth dough. If the dough should be too firm add some tbsp milk.
– Make 4 Weckmen: Roll dough (thick as a finger) size 20cm x 10cm
– Cut in on both sides for the arms, cut a triangle for the legs.
– With remaining dough make the head.
– Press raisins for the eyes into the dough. You also can make a nose and buttons. If you have the ceramic pipe place it into the part of the head where the mouth is.
– Pre-Heat oven to 350 F.
– Beat an egg yolk, and with a baking brush spread it all over the bread.
– Lightly oil a baking tray (or layer with parchment paper).
– Bake them for 30 min on 350 F. Watch out so they will not get brown; cover with foil to be on the safe side.
If you want to fill 2 baking trays reduce temperature to 340 F, the baking time will be shorter.