Posted on November 27, 2021 by admin
Every year in Germany from November to December you can find the most delicious cookies in bakeries and super markets all over the nation. In my opinion Germany has the best selection of Christmas cookies and you can get such cookies only at specific German stores in the USA.
But the good thing is you can bake all these nice cookies at home. All the recipes on this website are authentic and original German.
This time of the year I got inspired to write about the 10 best German Christmas cookie recipes because I am very passionate about baking Christmas cookies. It's fun to bake and create a selection of different cookies that are presented on a festive plate on Christmas Eve, the actual beginning of German Christmas. It's also the evening when gifts are exchanged. There are more cookie recipes on the website but I am sure you will love this selection. Happy Baking!
10 Best German Christmas Cookie Recipes
---
1. Lebkuchen – German Gingerbread Cookies
---
2. Vanillekipferl – German Vanilla Cones Cookies
German Vanilla Cones are classic and traditional Christmas cookies. They are very easy to make and you don't need special ingredients, just Vanilla Sugar, how to make it is part of the recipe.
---
---
3. Nuremberg Lebkuchen – German Classic Gingerbread Cookies
The Best Made in Germany Baking Mixes – For You! So Natural!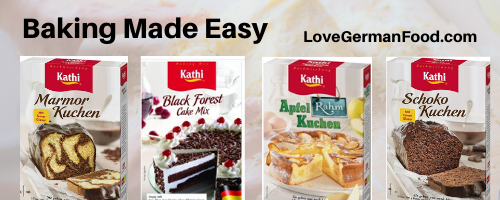 ---
4. Pfeffernüsse
---
5. Spitzbuben – Linzer Cookies
Classic Christmas cookies that are a Must Bake! Filled with raspberry or apricot jam or dusted with powdered sugar, you can find your favorite version.
---
6. Coconut Macaroons
As far as I can remember these cookies were always there at Christmas in my childhood. Every year my mom would bake them. It's such a delicious cookie, with wafers or without.

---
7. Hazelnut Macaroons
No German Christmas without these macaroons. It might be hard to find ground hazelnuts but it's worth it.
---
8. German Cinnamon Stars
The German Cinnamon Star cookies are wonderful German Christmas cookies. The Cinnamon Stars are traditional Christmas cookies and the recipe is easy to make. Really easy – You just need star cookie cutters.
---
9. German Rumkugeln – Rum Balls
These no-bake rum balls are irresistible. You can roll them in chocolate sprinkles or dark cocoa. So delicious!
---
10. Dominosteine – Domino Cubes
The German Dominosteine or Domino Cubes are traditional German Christmas cookies and are not the easiest cookies to make. You need to have baking experience for this recipe. Watch a video how they are made in Germany.
---
Make someone Smile with this German Gift Box
Related