This French specialty called Alsace Bacon Onion Tart Flambee is from the region Alsace with its main city named Strassbourg. During many centuries in the past that region alternated between being german and French. Many dishes can be found in the South of Germany around the city Freiburg in the Black Forest. The tart flambee is a thin crust tart similiar to a very thin pizza. Happy Cooking!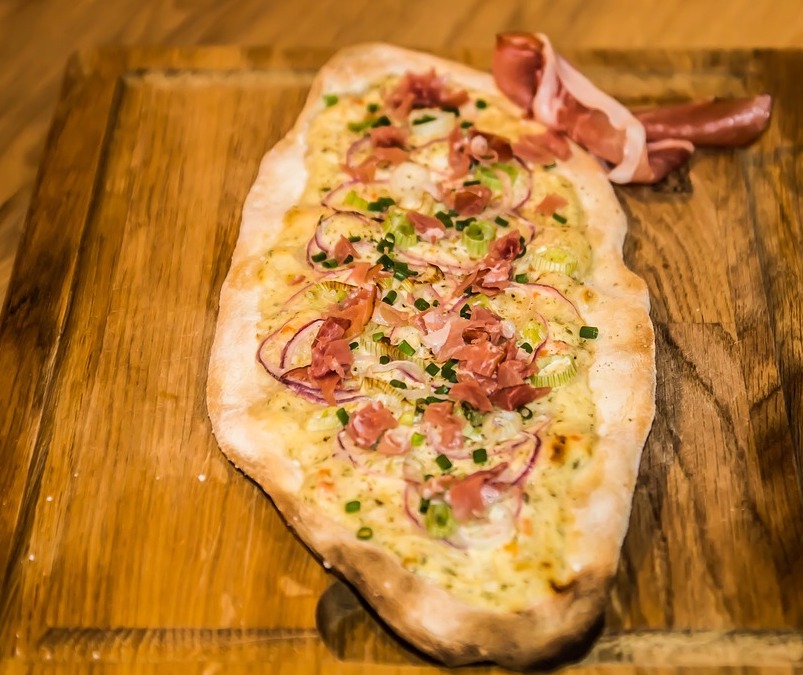 Ingredients Alsace Bacon Onion Tart Flambee
400 g flour, all purpose
20 g fresh yeast or dry yeast as needed (normally 1 package dry yeast on 500 g flour)
1/4 liter warm water
3 tbsp sun flower oil
Topping
125 g smoked bacon (German Speck)
500 g onions
150 ml sour cream
150 ml heavy cream
salt and pepper to tste
Cooking Instructions Alsace Bacon Onion Tart Flambee
Mix yeast with some water and let sit for 10 min.
Sieve flour into a bowl, add the water-yeast mix and all other ingredients and knead until you get a smooth dough.
Cover with a kitchen cloth and let sit for about 30 min (dont place it into the fridge), needs to be in a warm place.
Cut bacon is very fine stripes or cubes.
Peel onions and chop fine or cut in very thin slices.
Combine sour and heavy cream with salt and pepper to taste.
Make 4 parts out of the dough.
On a big piece of parchment paper roll the dough very thin until you get some rectangle or round crust.
Place on each crust 1/4 of the cream mix and sprinkle with bacon and onions.
Bake in pre-heated oven on 220 C or 425 F for about 10-15 min.