The German French Toast, or "Arme Ritter" in German, is a traditional dish that can be traced back to the Romans. In the antique cooking book De re coquinariayou can find this recipe:
"Zerbrich abgeriebene Siligenen (= Winterweizengebäcke), mache größere Häppchen, tauche sie in Milch, röste sie in Öl, übergieße sie mit Honig und serviere sie." (Break winter-wheat bread, make bigger pieces, dip in milk, roast in oil, pour over with honey and serve.)
The oldest German recipe was found in the 14th century in the book "guter spyse" (good food) that is quoted in the German dictionary of the Grimm brothers with: "snit denne aht snitten arme ritter und backe die in smalze niht zu trüge."
In a German cook book from 1691 the German French Toast is called "Gueldene Schnitten"  which means golden slices.
In England they are called Poor Knights of Windsor, in USA French Toast, in France pain perdu, and in Spain torrijas. Arme Ritter is great for  the brunch, breakfast or as a sweet dish only.
This recipe is using vanilla pudding and it is baked in the oven as a casserole (Auflauf in German) which is not the original recipe. Please keep this in mind.
Find the original recipe here: Arme Ritter Recipe – plain and simple – Happy Cooking!
Ingredients Arme Ritter – German Breakfast Casserole
(serves 4)
1 jar sour cherries
1/2 package Dr. Oetker Vanilla pudding (0.75 oz) or cornstarch and vanilla extract
3 eggs, medium
1 package vanilla sugar, 0.5 oz – How to make Vanilla Sugar –
dash salt, powdered sugar for dusting
450 ml milk
3 tbsp sugar
8 thicker slices of wheat toast (white)
25 g almonds, sliced
---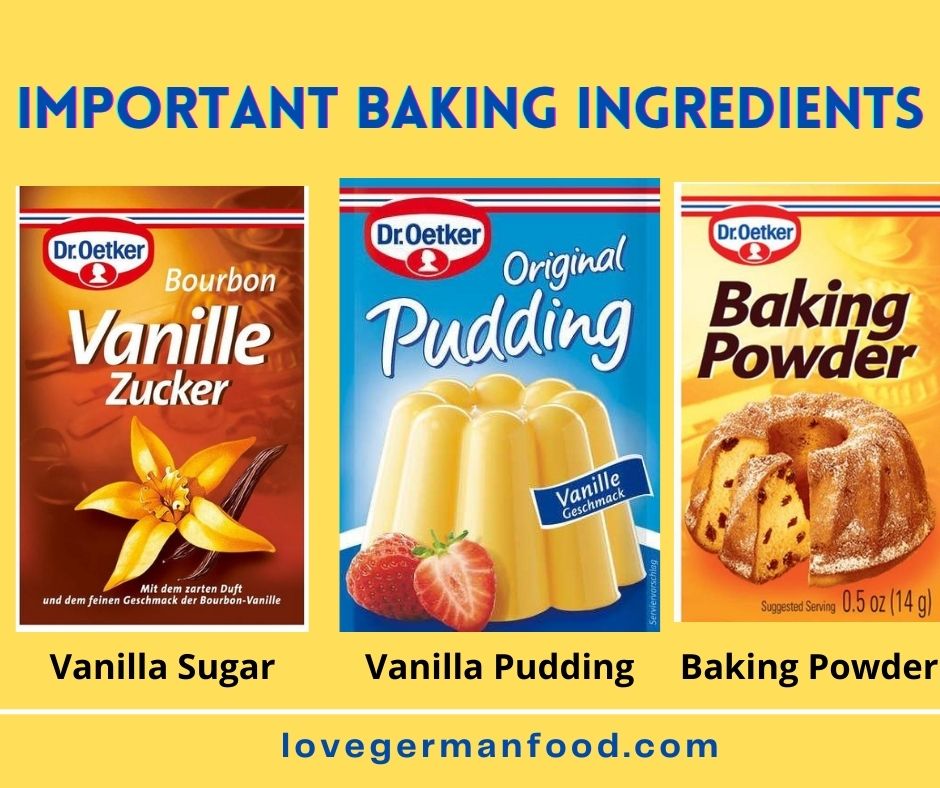 ---
Cooking Instructions
– Drain cherries, keep the juice.
– Mix pudding powder with 5 tbsp juice, mix until smooth.
– Bring remaining juice to a boil and add the pudding powder.
– Let  simmer for 1 minute, than add the cherries and let cool off a bit.
– Mix eggs, 200 ml milk, sugar and salt. Beat them thoroughly.
– Cut bread slices diagonal and turn them briefly in the eggs.
– Place the bread slices and cherry compote into a fire proof form in layers.
– Pre-heat oven to 200 C or 350 F.
– Finally add remaining eggs to the form.
– Bake for 15-20 minutes (cover with foil the last minutes if it should get too brown).
– Roast almonds in a skillet without any grease.
Sprinkle the German French Toast with roasted almonds before serving.
---