There is no substitute for a real German salad! Learn to day how to make the Best German Cucumber Salad. This recipe is so simple and yet so delicious! We recommend to use organic cucumbers and fresh herbs. For the vinegar we recommend to use German vinegar, if you cannot get it use the Italian red or white wine vinegar. We don't recommend to use over spiced or cheap vinegar or Balsamico. To get the authentic taste it is important to use high quality vinegar and oil.
If you don't use a grater for slicing, cut very fine slices. Happy Cooking!
Ingredients Best German Cucumber Salad
1 English cucumber
3 tbsp vinegar (red or white wine, or herb vinegar)
5 tbsp sunflower oil or taste neutral oil
salt, pepper to taste
1 dash sugar
some water (it needed)
fresh chopped dill, parsley
Cooking Instructions Best German Cucumber Salad
Peel and slice the cucumber (best is to use a grater that has the slicing option).
Place slices in a bowl and sprinkle generously with salt.
Let sit for approx. 30 minutes. Remove excess water if needed.
Add 5 tbs oil and 3 tbsp vinegar.
Pepper and sugar (to taste). If needed more salt.
Fill a little with purified water, if needed.
Chop parsley and dill very fine and add to the salad.
Let sit for 10 min before serving.
---
Makes an Excellent Gift! NO SUBSCRIPTION NEEDED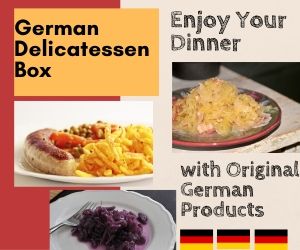 ---
Tips
– Fine sliced cucumbers with salt get watery after a while. So it is up to you if you like to add additional water or not. Important is that the salad should not be too dry.
– The spices should be added to taste. I personally don't add sugar at all to the salad but I add a hint of nutmeg and 1 tbsp finely chopped onions.
---