The Bremer Wickelkuchen or in English Wickel Cake is basically a kind of roll or strudel (like apple strudel) but has a chocolate- streusel filling or a filling with raisins and almonds. This recipe is from someone who made such a cake probably a hundred times back when there was no hand mixer. It is called "Wickel" cake because "wickeln" means to roll. Original and authentic recipe from Bremen. Happy Baking!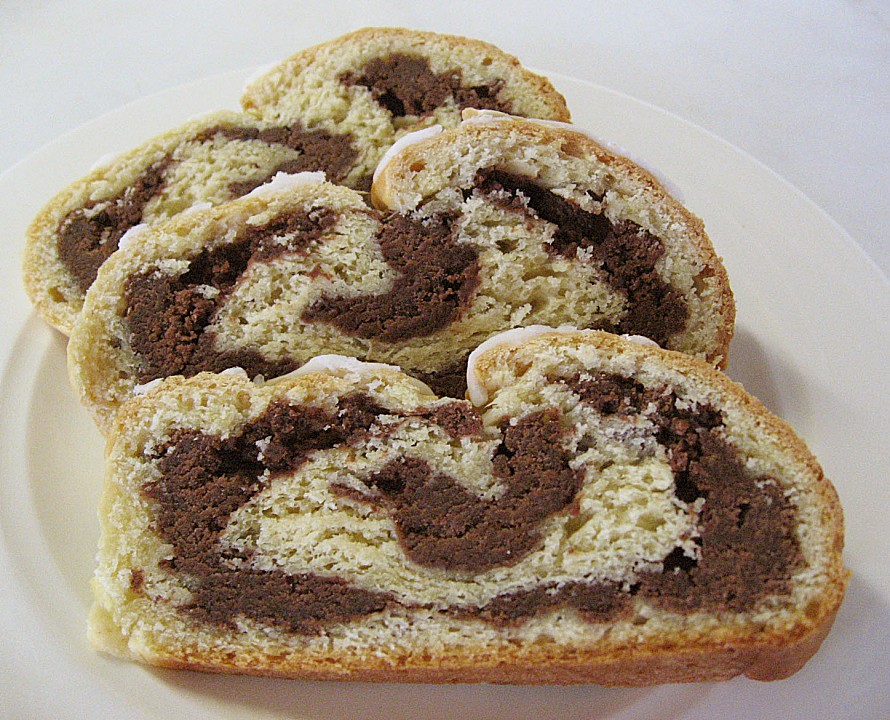 Ingredients Dough
500 g flour
1 Pck. dry yeast
80 g sugar
1 pinch salt
250 ml warm milk
100 g butter
Filling:
200 g sugar
1 pinch salt
300 g flour
200 g butter
2 tbsp cocoa powder
2  tbsp Nutella or hazelnut spread
Glaze
125 g powdered sugar
1 tbsp lemon juice
some melted butter
Baking Instructions Bremer Wickelkuchen
– Make a yeast dough from all ingredients listed under dough (see the video)
– Place the dough on a baking tray, layered with baking paper that is sprinkled with some flour.
– Let dough raise for 10 min on 120 F. Turn oven off and let raise for another 20 min. Dough volume should be double.
– Place all ingredients for the filling into a bowl and with your hands knead it so you get streusel (crumbles). If they are too dry add some more Nutella.
– On a baking board or smooth surface knead the dough, sprinkle baking board with flour so it won't stick. Roll the dough to a rectangle.
– Brush melted butter on dough, then place the chocolate streusel on top.
– Carefully roll the dough and place it like a half moon on a greased baking tray.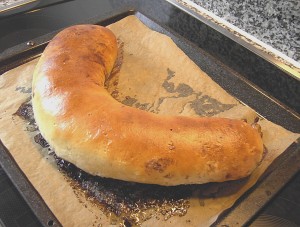 – Bake for 30-40 min on 350 F (convection)
– Let cake cool off.
– Mix powdered sugar with lemon juice, it should be smooth and creamy. Spread the glaze over the cake and let dry. Cut the cake when the glaze is firm.
How to make a sweet yeast dough (this video shows different measures; please use the measures for the Wickelkuchen from our recipe)