The German Cinnamon Pastry or Zimtschnecken in German is a super popular pastry that you can find in any German bakery. You cannot find them in America, the American cinnamon rolls are different. With this authentic German recipe you can make the Zimtschnecken now at home. Enjoy them as if you would be in a German bakery. Happy Baking!

Ingredients German Cinnamon Pastry
(for about 16 pastries)
500 g flour
1 package dry yeast or 1 cube fresh
1 tsp sugar
1/4 liter milk
80 g sugar
80 g butter, soft, room temperature
1 dash salt
Filling
100 g butter, soft, room temperature
100 g hazelnuts, ground
50 g sugar
1 tsp cinnamon
1/2 cup milk
100 g raisins, some rum, apple juice or water to soak them
1 tbsp milk, 1 egg yolk
Baking Instructions German Cinnamon Pastry
– All ingredients should have room temperature.
– Place flour in a bowl, add yeast and 1 tsp sugar.
– Warm half of the milk, pour over yeast.
– Mix thoroughly, then let raise 10 min, covered with kitchen cloth. This is the starter dough.
– Add remaining ingredients, butter at last.
– Knead well on a floured baking board.
– Roll the dough to a size of 20 inches length.
– Soak raisins in rum or alternatively in apple or grape juice.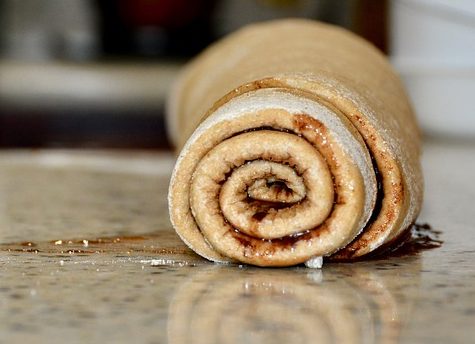 Make the Filling
– Pre-heat oven to 390 F.
– Mix butter, nuts, sugar, cinnamon and milk very well.
– Place heaps of the filling on the dough, spread evenly until the edges.
– Sprinkle drained raisins on top.
– Roll from the shorter side, cut  1 inch thick slices.
– Place them on a baking tray layered with parchment paper.
– Mix 1 tbsp milk and 1 egg yolk, brush on top of each pastry.
– Bake for about 15-20 min.
Dust them with powdered sugar or make a glaze:
Mix powdered sugar with lemon juice until you get a slightly thick liquid. Spread over hot pastries.