Our cucumber Salmon appetizer is yummy finger food the German way. It's a delicious  appetizer for the holidays but also for any party that needs some finger food. These little bites make a great addition for a cold buffet. It's an authentic German recipe, and not difficult to make. We know that this German appetizer will make your party successful. Happy Cooking!
Ingredients Cucumber Salmon Appetizer
200 g cream cheese
200 g smoked salmon
1 tbsp quark or natural Greek yogurt (Fage 5%)
1 tbsp mayonnaise
2 tsp lemon juice
1 English cucumber
salt, pepper to taste
1 tbsp parsley and 1 tbsp chives, chopped
Decoration:
red pepper, cut in fine cubes
chives cut in small rolls
dill, chopped fine
---
Delicious German Bread from Delba, Germany!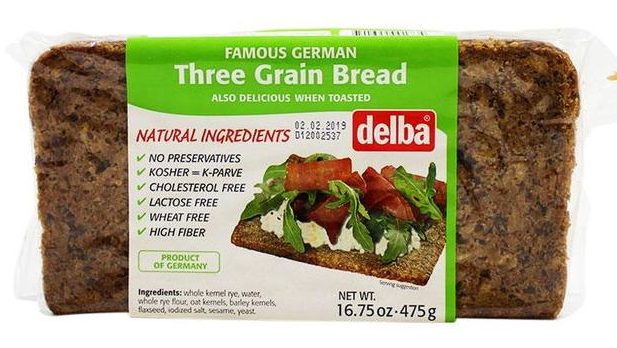 ---
Cooking Instructions
– Mix cream cheese until smooth by using a stick mixer.
– Cut salmon in small pieces so one piece will fit on a slice of cucumber.
– Combine mayonnaise, lemon juice, chives, parsley to cream cheese, spice with salt and pepper. Mix well with hand mixer.
– Wash cucumber, cut off the ends, cut in thicker slices.
– Place a piece of salmon on each slice, on top a small heap of the cream cheese.
– Decorate with chives, small red pepper or fresh dill.
Tips
– You can make the cream the day before but not with the cucumber. The cucumber should be cut before you serve otherwise it will get dry.
– Instead of cucumber slices you can use the round or square cocktail pumpernickel bread from the US brand Rubschlager, or use the packaged German bread from Delba (see above) and cut out little into squares. Just spread some butter on the bread, add a slice of cucumber if you like, topped with salmon and cream cheese.
---