Germany is the country of the most famous Christmas baking and one traditional cake is the Stollen. There are many different recipes on how to make the Stollen. One is the "German Marzipan Quark Stollen" recipe which we feature today. Just in time for the holidays. You need to bake it now as the Stollen must sit for some weeks. Happy Baking!
Ingredients German Marzipan Quark Stollen
375 g raisins
100 ml dark rum or alternatively apple juice
375 g flour
4 tsp baking powder
125 g sugar
1 package vanilla sugar 0.3oz – How to make Vanilla Sugar –
vanilla or rum flavoring if you used apple juice (1 little bottle or 1/2 tsp)
1/4 tsp cardamom
1 point of a knife nutmeg (a hint)
1 tsp orange zest, organic
250 g quark – How to make Quark from scratch –1 egg and 1 egg yolk
150 g butter, soft
100 g candied lemon – How to make Candied Lemon from scratch –
200 g almonds, ground
100 g raw marzipan
100 g butter, melted
powdered sugar
Baking Instructions German Marzipan Quark Stollen
– Soak raisins over night in rum or apple juice.
– Before baking drain raisins.
– Mix baking powder with flour, sieve into a bowl.
– Add sugar, vanilla sugar, flavor, all spices, zest, 1 egg, egg yolk, soft butter and quark.
– With a hand mixer mix on highest level for 5 min.
– Place dough on a floured surface, make a mold in the middle and place candied lemon, almonds and rum-raisins into this mold.
– Knead the dough until it is smooth. You might need to add more flour if it is sticky.
– Roll the dough to a rectangle plate (30x20cm).
– Knead the marzipan until some oil is discharging, roll it to a plate, a bit smaller than the dough.
– Place marzipan plate on the dough but it should not be along the horizontal edges.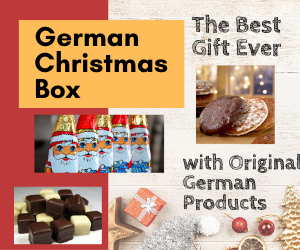 – Roll the dough tightly, then place it where the seam is, and form a Stollen.
– Place Stollen on 3 layers of baking paper that are placed on the oven grid. Bake for 50-60 min on 150 C or 300 F.
– Make sure it wont get too dark, if it is the case place foil on top.
When Stollen is done brush with melted butter and right away dust with powdered sugar. Repeat this several times.
Let Stollen cool off completely, then wrap in parchment paper tightly. Like this the Stollen will be good for several weeks. The best is to bake it 2-3 weeks before Christmas. Keep the Stollen at a cool place (room that is not heated).
---