It's Halloween! If you throw a party you need good beverages that are creepy. We found a German recipe that you will love for your Halloween party: Dead Eyes Creepy Halloween Drink – make it non-alcoholic or add some alcohol, as you like. Happy Halloween!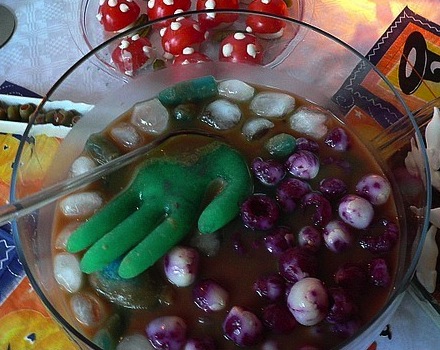 Ingredients Dead Eyes Creepy Halloween Drink
lychees (from the can or fresh)
cherry juice
orange juice
lemonade
Instructions
– Mix lychees with cherry juice and keep it in the fridge over night. It will make them purplish.
– Before serving, fill the bowl with lemonade, and add ice cubes or a green hand.
– Make the green hand: Fill green water into rubber globes and freeze them (use filtered water or non-sparkling mineral water and green eatable color).
Tips and Variations
Alcoholic:
– Use blood orange juice and champagne.
– Use Curacao and champagne.
– Instead of adding ice cubes mix white wine with eatable color and fill it in rubber gloves; freeze them and place them into the punch (don't use sparkling water or lemonade because the hands will brake very soon).
– Place the lychees over night in vodka and cherry juice.
Make the eyes more real looking by placing a cherry into each lychee.