Just ready for fall: Sweet sour pickled pumpkin – an original German recipe for anyone who likes pumpkin dishes. Canning is very popular in Germany. The pickled pumpkin taste great together with fried potatoes.  Happy Cooking!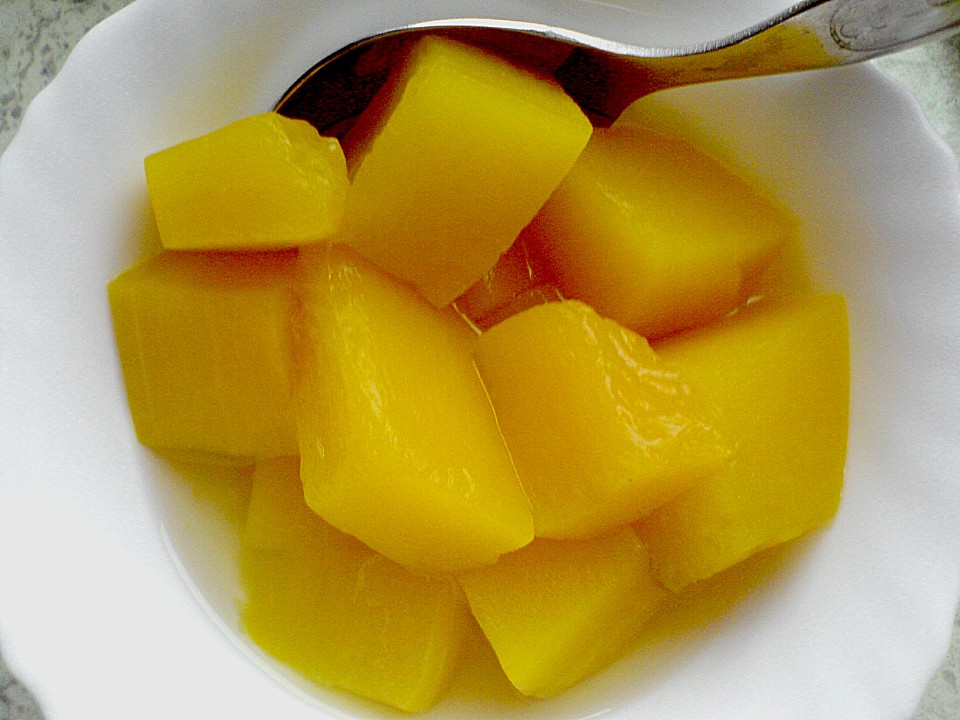 Ingredients Sweet Sour Pickled Pumpkin
1 kg pumpkin
350 g sugar
1/8 liter vinegar
1/4 liter water
1 tsp salt
1.5 cinnamon sticks
6 cloves
fresh ginger
water and vinegar
Cooking Instructions Sweet Sour Pickled Pumpkin
– Remove all the seeds and all fiber of the pumpkin by using a spoon, remove skin as well.
– Cut pumpkin in small cubes.
– Soak over night in vinegar-water mix: for 4 l water use 1/2 l vinegar.
– Pumpkin pieces should be covered well (you might add more liquid).
– Drain in a sieve the next day.
– Place cinnamon, cloves, and some slices ginger into a linen bag.
– In a pot mix pumpkin with sugar, water and vinegar (to taste) – use more or less sugar.
– Boil until pumpkin looks transparent. It depends on what pumpkin you are using and how firm or soft you like the pumpkin to be.
– Fill in jars (rinse them with boiling hot water before using them, place them upside down on a clean kitchen cloth).
– Can the jars for 30 min at 160 F in the oven or use a water bath.
– You also can keep the jars in the fridge for immediate usage.