The Dresden Cheese Cake Eierschecke is a cake specialty from Dresden, mainly from Saxon and Thuringia. The photo below shows the famous and beautiful cheese store and restaurant "Pfunds" www.pfunds.de. where they sell this cake (see the photo below, showing the cheese chop).
THE HISTORY
Schecke is a cake that is made on a baking tray out of a yeast dough and it is topped with apples, quark or poppy seeds. Tt also has a glaze that is made out of egg, cream, sugar and flour.
Back in the 14th century the  Schecke was the name for men clothing and consisted of 3 parts (upper, belt, and lower part). The cake had been named after these men clothes.
The Cake "Schecke" has 3 Parts:
The upper layer is a creamy egg yolk with butter, sugar and vanilla pudding; the middle part is mainly a mix of quark, egg, butter and vanilla pudding; the lower part is a dough made out of yeast or a normal mix. That is the Dresdner Eierschecke.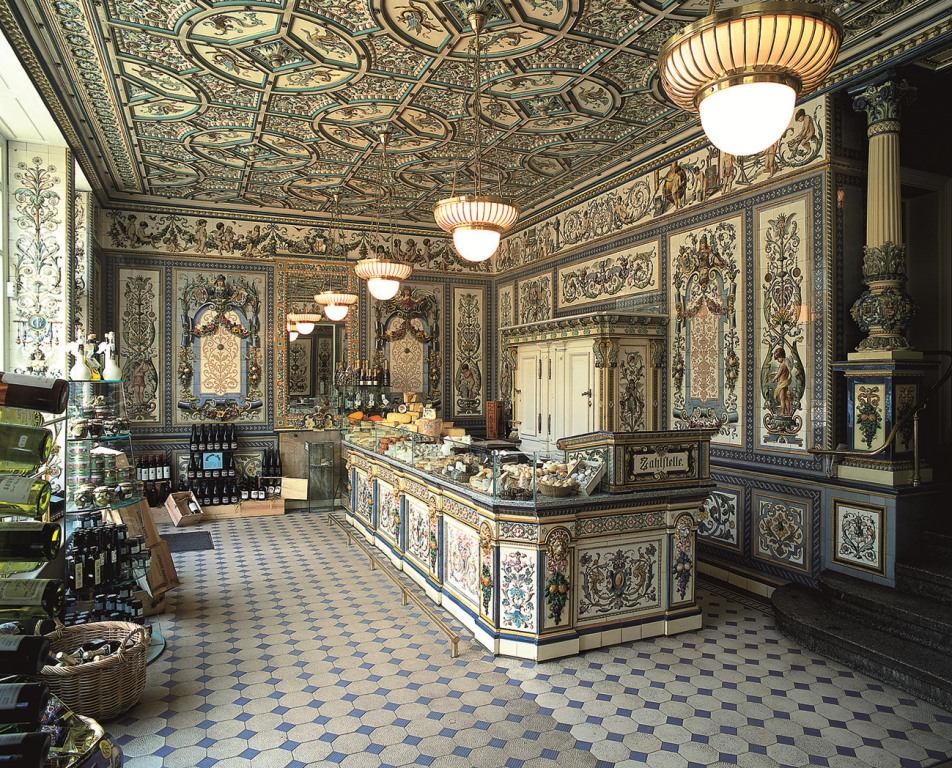 The cake is cut in rectangle pieces or like a tart. You can add raisins, almonds, Streusel or a  chocolate glaze.  Here is the recipe for you on how to make this cake from scratch. Happy Baking!
Ingredients Dresden Cheese Cake Eierschecke
For the Dough
65 g Butter
50 g sugar
1 egg
1/2 package baking powder, 0.3oz
200 g flour
For the Filling
50 g butter
1 egg
75 g sugar
500 g quark – Make your own Quark – click here –
500ml milk
1 package vanilla pudding, Dr. Oetker – Find it here –
Top Layer
3 eggs, separated
75 g sugar
100 g butter and some butter for greasing the form

Baking Instructions Dresden Cheese Cake Eierschecke
– Combine all dough ingredients in a bowl, mix well.
– You get a crumbly dough. Knead the dough until it is smooth.
– Grease a spring form 10 inches or layer one with parchment paper.
– Fill the dough into the spring form. Spread even.
Make the Filling
– Mix all ingredients for the filling.
– Make the pudding per instructions. Half of the pudding will be added to the filling. Let the pudding cool off until it's warm, place plastic foil on top, to prevent skin build up.
– Fill the cream on the dough.
– Preheat oven to 300F.
Top Layer
– Separate eggs, then beat egg whites until firm.
– For the topping beat egg yolks, sugar and butter until creamy.
– Ad the remaining pudding; mix well, then add the firm egg white and carefully fold in the cream.
– Place it on top of the filling.
– Bake for 50-60 min on 190 C (convection) 375F – After 30 min cover the cake with parchment paper or foil, so the surface won't get brown.
– Let the cake cool off in the form, then release from form carefully.
Serve with whipped cream.
---
Baking Ingredients From LoveGermanfood.com