The filled butter cake from Germany is very similar to the regular butter cake but this cake has a delicious filling. This filling is consisting of vanilla pudding and if you have some egg liqueur (Verpoorten), you can add it to the filling – that makes a little difference. If you add some teaspoons of cocoa powder to the pudding you will get a nice creamy chocolate filling. Or add some raspberries, strawberries, blueberries or apricots to the filling. There are plenty of variations. Enjoy this cake! Happy Baking!
Ingredients Filled Butter Cake
375 g flour
1 package dry yeast, in Germany: 1 cube – See: All About Yeast
1 package vanilla sugar 0.3oz – How to make Vanilla Sugar at Home –
70 g sugar
1 dash salt
200 ml milk, lukewarm
1 egg
---
IMPORTED FROM GERMANY!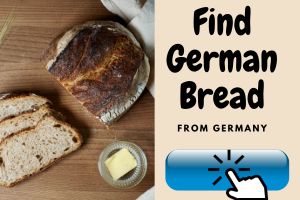 ---
Topping
100 g butter, in flakes
75 g sugar
1 package vanilla sugar
120 g sliced almonds
Filling
750 ml milk
80 g sugar
2 packages vanilla pudding – How to make Vanilla Pudding –
Baking Instructions Filled Butter Cake
MAKE THE YEAST DOUGH 
– Warm the milk a little bit.
– Into a bowl add sugar, vanilla sugar, butter, egg and salt with the milk.
– Dissolve the yeast, mix with the flour, knead until you get a smooth dough.
– Cover the dough with a kitchen cloth, let raise at a warm place for 40-50 min.
– Sprinkle baking board with some flour, knead the dough again.
– Roll dough on a greased baking tray, with the tip of your finger make little molds in the dough, place butter flakes in each mold.
– Pre-Heat oven to 350 F.
TOPPING
– Mix sugar, almonds and vanilla sugar
– Sprinkle evenly on top of the dough.
– Cover it, let raise for another 25 min at a warm place.
– Bake for 25 min on 350 F.
– When done let the cake cool off completely.
– Cut in 4 pieces of the same size.
– Because you want to fill them, cut each cake piece horizontally by using a sharp knife.
-You will have a lower and upper part.
MAKE THE FILLING
– Make the pudding per instructions.
– Let the pudding cool off a bit before you spread it on the lower part piece,
– Cover it with the upper part piece.
– Repeat with all pieces.
– Keep the cake for 2 hrs in the fridge or 5-10 min in the freezer.
– Before serving cut the pieces again. If you like you can add a thin layer of powdered sugar on top right before serving.
---