This German easter cake fried egg style will make your family smile. You can use apricots or peaches for the cake which mimic the fried egg. Keep in mind using peaches will make the "fried egg" look bigger! It's a proven recipe from Germany. Not long ago I found canned peaches at ALDI's. Happy Cooking!
Ingredients German Easter Cake Fried Egg Style
250 g butter
5 eggs
250 g sugar
250 g flour, all purpose, unbleached
½ package baking powder, 0.25 oz

TOPPING
1000 ml milk
2 packages vanilla pudding Dr Oetker, 10 oz – alternatively cornstarch & vanilla extract
400 g sour cream
3 packages vanilla sugar, 1oz – How to Make Vanilla Sugar –
2 cans apricots or peaches (halves), each 125 g
2 packages glaze, clear – How to Make the Glaze –
Baking Instructions German Easter Cake Fried Egg Style
Drain apricots/peaches, keep the liquid.
Pre-heat oven to 180 C or 350 F.
Combine butter, sugar, sieved flour, eggs and baking powder, mix well with hand mixer for 2-3 min.
Grease a high sheet baking pan with butter and dust with flour or layer it with parchment paper. Fill dough in a high sheet baking pan (height should be at least 2 inches).
Bake for about 20 min. Do the test with a toothpick (poke into the cake, see if it remains clear, then cake is done).
When done let cool off, remove parchment paper. To add the topping cake must be in the same pan or you need to use a baking frame.

Make the Topping
Cook the pudding per instructions. Let cool off (place plastic foil on top to avoid skin buildup).
Combine sour cream and vanilla sugar, then mix gently with cooled off pudding.
Pour the cream onto the cake.
Bake for additional 15 min on 350F.
Let cake cool off.
Place apricots/peaches on top.
Make the glaze per instructions but use the liquid from the cans plus needed water.
Pour the glaze over the apricots/peaches.
Place in fridge for 1-2 hours or over night.
---
Kathi has a Baking Mix for every Cake.
Use the one below for Making Layered Cakes.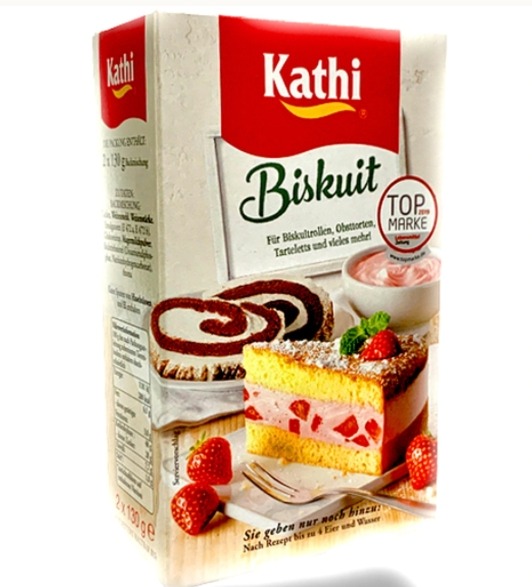 ---
Variation
Use a 28cm or 11 inches spring from instead of a baking pan but use only half of the ingredients!
---