This sweet bread will look so good on your Easter table! The little German Easter Sweet bread nests are made out of a yeast dough and decorates with hard boiled eggs. Happy Easter!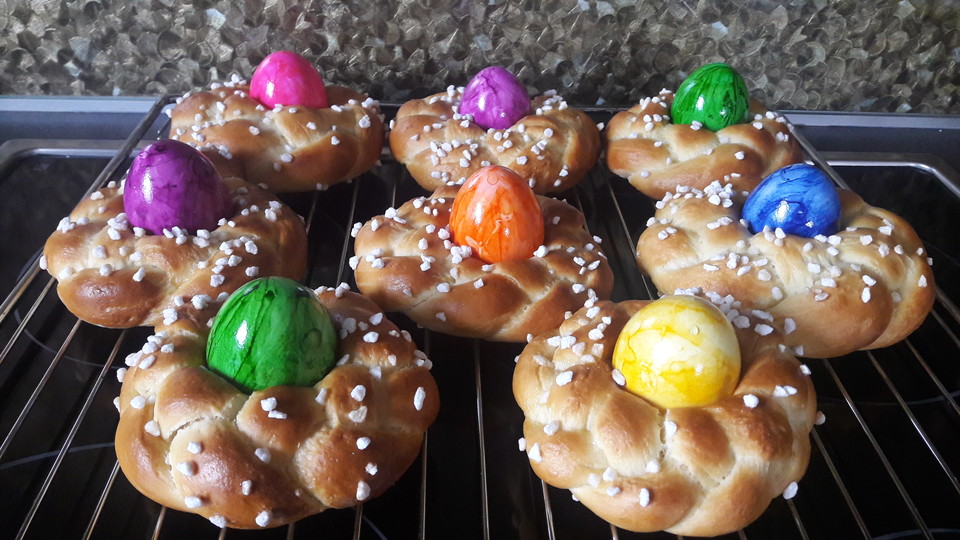 Ingredients German Easter Sweet Bread Nests
500 g all-purpose flour, unbleached
100 g powdered sugar
1 dash salt
1 package dry yeast
3 egg yolk
60 g butter, melted
250 ml milk, semi-warm
lemon zest from 1/2 lemon, organic
2 packages vanilla sugar – How to make Vanilla Sugar –
1 egg
coarse sugar – optional
8 hard boiled, colored eggs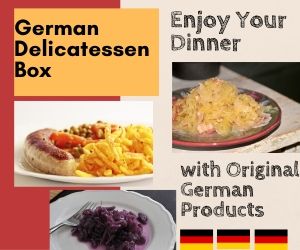 Baking Instructions German Easter Sweet Bread Nests
– Mix the first 9 ingredients – Knead well until you get a smooth dough which is coming off the edges of the mixing bowl. You should also see some bubbles in the dough (Use the hand mixer with kneading hooks).
– Cover the dough with a kitchen cloth and let raise for 30 min at a warm place. Dough amount should double.
– After 30 min you can knead the dough again, and let raise again. Adding this step will create an even finer bread.
– Separate the dough in 24 pieces.
– Make 8 braids (each one contains 3 pieces).
– Form each braid into a wreath (diameter about 10cm).
– Beat the egg yolk.
– Pre-heat oven to 175 c or 350 F.
– Brush the egg yolk evenly over each wreath.
– If you like sprinkle coarse sugar on the nests.
– Bake for 15 min.
When the sweet bread nests are done place a hard boiled egg into the middle, press gently so it will hold.
---