Posted on April 6, 2022 by admin
Easter is a time for some special baking such as the German Easter Rabbit Cookies. One ingredient is quark. If you cannot purchase it there are methods to make it from scratch. Happy Baking!
Ingredients German Easter Rabbit Cookies
500 g quark – How to make Quark –
150 g sugar
zest of 1 lemon or orange (organic)
3 packages vanilla sugar – 0.9oz – How to make Vanilla Sugar –
3 small eggs or 2 large
12 tbsp oil (safflower or canola)
9 tbsp milk
600 g flour
1.5 packages baking powder – 0.7oz
melted butter
sugar
---
The only Shortcrust Baking Mix Available – Makes Delicious Cookies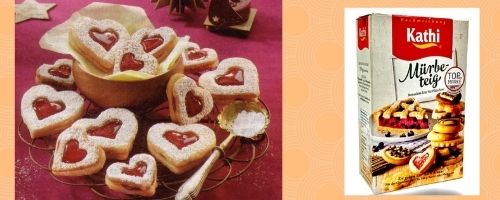 Baking Instructions
If quark contains liquid place quark in a kitchen cloth and press until quark contains no more liquid. Or place quark in kitchen cloth, place in a sieve, let drain over night. When all liquid is gone you have about 300g quark.
Combine quark with eggs, sugar, oil, vanilla sugar and zest, mix until you get a smooth cream.
Mix flour with baking powder, combine with quark cream. You should get a dough that is similiar to a yeast dough.
Let dough sit for 30 min. Knead again briefly with hands.
Pre-heat oven to 390 F.
Roll the dough (2 cm, 3/4 inches thick) and cut out with a rabbit cookie cutter.
Melt some butter and spread over the rabbits.
Bake for 10-15 min, let cool off a bit.
Place on kitchen paper, brush with melted butter and turn in sugar right away.
Related