What dishes can you make with hard boiled eggs? Here is a somewhat unusual recipe which is named "Eggs Mirabell". The heritage of the German egg recipe Eggs Mirabell is unknown but I thought it is  delicious dish whenI found this recipe in an old cooking book.
Instead of making fried or scrambled eggs, why not tryin g this egg dish variation?
Eggs Mirabell make a great addition for a brunch or breakfast. By the way, it is the same crust you would use for the Wiener Schnitzel. Happy Cooking!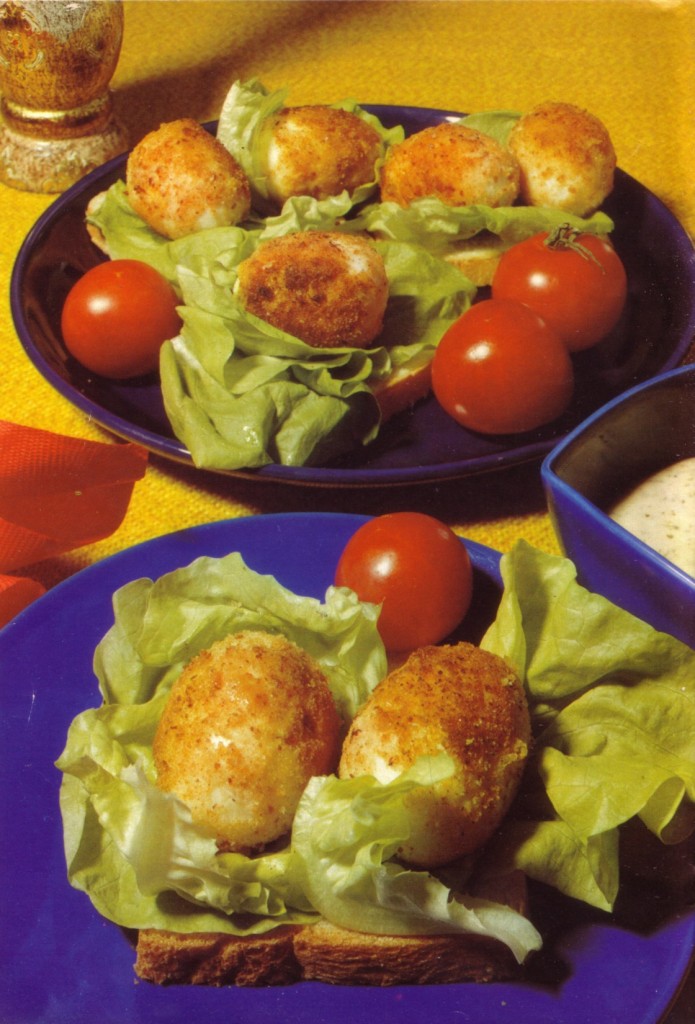 Ingredients German Egg Recipe Eggs Mirabell
(serves 6)
7 eggs
4-6 tbsp bread crumbs
Sunflower oil or butter
toast of your choice
Tartar Sauce (in German Remoulade) or mayonnaise
Cooking Instructions Eggs Mirabell
– Boil six eggs until they are hard boiled, place them for some seconds in cold water, so you can peel them easily.
– Whisk another egg in a bowl and place  bread crumbs on a separate plate.
– Roll the eggs first in the egg, than really good in bread crumbs until the whole egg is covered with a thick crust.
– Bake them in enough grease or fat in a pan until the crust is golden-brown.
– Place them on toast slices with green salad leaves.
– You can butter the toast first, add some mayonnaise, then the salad and on top the eggs.
– Eat the eggs with Tartar Sauce, mayonnaise and pickles.