What are we cooking today? What about a German Goulash Stew combined with small Dumplings? In German we call it "Gulasch", and it is an easy German recipe for your dinner that you will love. The dumplings are much smaller than the regular dumplings because they will be added to the stew.  Makes a wholesome dinner! Happy Cooking!
Ingredients German Goulash Stew
3 smaller onions
2 garlic cloves (optional)
1 medium size green and red pepper
1 lb beef stew
4 tbsp chopped bacon (Speck)
3 tbsp oil
salt, pepper, mild Hungarian paprika powder to taste
4 tbsp flour
3 tbsp tomato paste
1/4 l dry red wine (optional)
1 package dumplings half and half (for 12 dumplings) or raw dumplings, or make the dumplings from scratch
– Click here to find the Dumpling Recipe –


150 ml creme fraiche or heavy cream
fresh ground nutmeg to taste
5 sprigs of thyme
---
Contains Spätzle and more… A True German Munch Box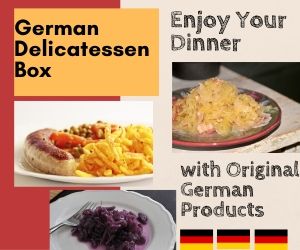 ---
Cooking Instructions German Goulash Stew
– Peel onions and garlic, chop fine.
– Cut peppers in smaller cubes.
– Wash meat, pat dry and cut in cubes if not cut already.
– Cut Speck in small cubes.
– Heat oil in a skillet, brown meat in portions (not at once) briefly on high heat.
– Add salt and pepper.
– Remove meat from skillet.
– In the same skillet add bacon, onions, pepper, garlic, and half of the thyme.
– Add meat, paprika and dust with flour.
– Fill up with 1 liter water and red wine, bring to a boil.
– Let simmer for about 1 hour or longer as needed (depends on the meat, it should be very tender).
Make the Dumplings from a Mix or from Scratch – Go to the  RECIPE –
– Mix dumplings powder with 600 ml water.
– Add creme fraiche, salt, nutmeg and pepper to taste.
– Form about 40 little dumplings (they are half of the size than regular dumplings).
– Bring water with salt to a boil, add dumplings and keep them on low heat in the water for about 20 minutes.
– Chop remaining thyme fine.
– Drain dumplings, add thyme to the stew, spice with salt, pepper if needed.
– Place dumplings in a bowl or soup plate and fill up with the stew.
---