Posted on August 7, 2018 by admin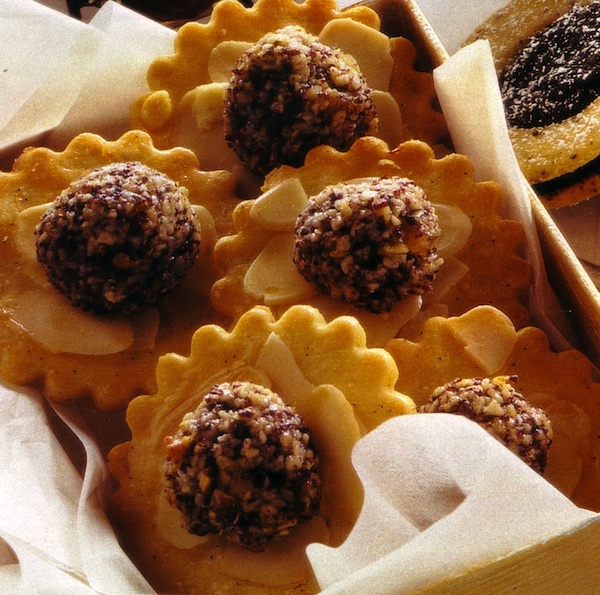 Ingredients German Orange-Poppy Christmas Cookies
(makes 50 pieces)
125 g soft butter
75 g powdered sugar
2 vanilla beans
5 egg yolks
1 tbsp grated orange peel (organic)
275 g flour
1 point of a knife baking powder
100 g poppy seed filling (Mohnback)
45 apricot jam
1 tbsp cinnamon
100 g almonds ground
45 mixed peel or Orangeat (candied peel) – How to make it  – or Buy it: Candied Orange Peel, Diced, 8 oz.

50 g sliced almonds
Baking Instructions German Orange-Poppy Christmas Cookies
– Mix butter, powdered sugar and 2 egg yolks with the hand mixer for 5-7 minutes.
– Add vanilla seeds and orange peel, mix it, sieve flour and baking powder on top, mix it and knead it with the hands to a smooth dough; form a ball and wrap it in foil; keep in the fridge for 2 hours.
– Mix poppy-seed filling, apricot jam, cinnamon, Orangeat with 1 egg yolk.
– On a baking board with flour roll the dough 1/2cm thick; cut round cookies (preferably the edges are wavy) one after the other  without any distance in between, and place them on a baking tray (layered  with baking paper).
– Work fast so that dough won't get to soft; you can place the dough into the freezer if you need more time.
– Beat remaining egg yolk and brush it on the cookies: Place some almond slices in the middle and carefully brush them with egg yolk.
– Form little balls (50) out of the poppy seeds and place them in the middle on top of the sliced almonds.
– Bake them in preheated oven for 8 minutes on 190 C or 375 F; let them cool off on grids.
Related