Roast Turkey with Dijon Mustard Sauce
Nice Turkey Roast recipe for Thanksgiving and it is not a German recipe. In Germany we love to make a goose for Christmas similar to turkey.
This US Roast turkey recipe is special because the mustard will not be spread onto the skin (as usual), it is spread under the turkey skin. Sounds difficult? It's not that difficult to loosen the skin. With this method the meat will be especially juicy and flavorful. Happy cooking and baking and Happy Thanksgiving!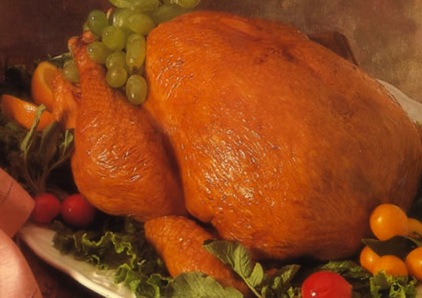 Ingredients Turkey Roast Recipe
1  turkey (12-14 pounds), thawed if frozen
1/3 cup Dijon mustard
Vegetable oil
Dijon Mustard Sauce
Turkey drippings
3 tbsp all-purpose flour
1 cup half and half (milk)
1/4 cup Dijon mustard
1/4 cup chopped parsley
Cooking Instructions Turkey Roast Recipe
Preheat oven to 325 degrees F.
– Remove neck and giblets from the turkey; drain it well, and free the legs from the tucked position, without cutting the band of skin.
– Using a rubber spatula or hand, loosen the skin over the breast, starting at the body cavity opening by the legs.
– Spread 2 tbsp mustard inside the body cavity and spread the remaining mustard on the meat under the skin. Hold the skin in place at the opening with toothpicks.
– Return the legs to the tucked position and turn the wings back to hold neck skin in place.
– Put the turkey, breast side up, on a flat rack in an open pan, about 2 inches deep.
– Insert a meat thermometer into the thickest part of the thigh next to the body, being careful not to touch the bone. Brush the turkey with vegetable oil.
– Roast the turkey for 3.5 to 3 3/4 hours. When the skin turns golden brown, cover the breast loosely with aluminum foil to prevent over browning.
– When the turkey is done let it stand for 15 minutes.
– For the sauce remove the fat from the drippings with a turkey baster or skimming spoon..
– Add enough water to the drippings to make 2 cups.
– In a medium saucepan, blend the drippings with the flour, using a wire whisk. Cook, stirring, over medium heat until the mixture thickens and starts to boil.
– Stir in half and half, mustard and parsley.
– Continue to cook over medium heat until the sauce is thickened but not boiling.
Carve the turkey and serve it with the mustard sauce.