The German pumpkin lasagne is  a great recipe using pumpkins and the fall season. It is a combination of pumpkin, egg plant and leek, and it is also a  healthy, veggie dish.  If you like pumpkin dishes, this recipe is for you! Happy Cooking.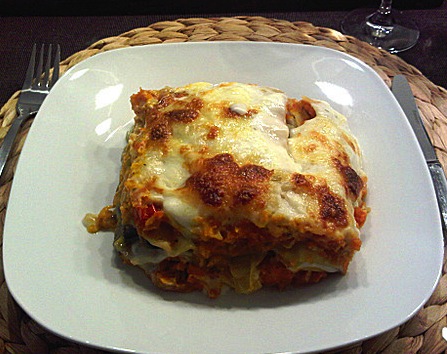 Ingredients German Pumpkin Lasagne
1 medium size pumpkin
2 leeks
1 egg plant
2 tomatoes
1 onion
2 garlic cloves
3 tbsp fresh basil
1 can tomatoes (pieces)
1 tbsp instant vegetable broth
120 ml heavy cream
cooking oil, salt, pepper to taste, 1 dash sugar
1 package lasagne sheets, pre-cooked
100 g cheese, grated or small cubes
100 g mozzarella
Sauce
50 g flour
50 g butter
3/4 l milk
salt, pepper, nutmeg to taste
Cooking Instructions German Pumpkin Lasagne
– Cut pumpkin and aubergine in small pieces. Slice leek, chop onion and garlic fine.
– Cook the pumpkin pieces in some water for 2 minutes or until they are medium soft. They should not be too soft and can be somewhat raw in the middle. But the cooking time depends on the kind of pumpkin as well.
– Heat oil in two skillets: in 1 skillet add half of the onions and garlic. Add the pre-cooked pumpkin pieces and brown them for 2-3 minute. Then add chopped tomatoes and tomatoes from the can.
– Add basil, salt, pepper, sugar, instant broth and heavy cream.
– Let cook on low heat until liquid is almost gone. Set skillet aside.
– In 2nd skillet add remaining onions and garlic, add leek and saute it until you have some liquid, then add aubergine. Saute on low heat until the vegetable is soft; spice with salt and pepper.
– Sauce: Melt butter and add flour, whisk continuously so you won't get any clumps.
– De-glaze with milk, stir continuously until the liquid gets thick.
– Add salt, pepper and nutmeg to taste.
Prepare lasagne sheets per instructions. Some are pre-cooked some not.
By using a fireproof form, spread the sauce on the bottom of the form and add a layer of lasagne sheets. Then add a layer of pumpkin with cheese, a layer lasagne, followed by sauce, leek and cheese, again a layer of lasagne sheets, then pumpkin with cheese and so on. Top layer should be the sauce with mozzarella slices.
Bake in preheated oven on 200 degrees C or 390 F for 45 minutes until the cheese is golden brown.