The German Sauerkraut Soup is a very tasty and easy to make soup! It is the right soup for cold evenings in fall or winter. Sauerkraut contains a lot of Vitamin C, and is a typical German winter season vegetable. When combined with Kassler, a German specialty, smoked pork chop or ribs, it makes an awesome main dish especially when served with freshly baked bread. Happy Cooking!
Ingredients German Sauerkraut Soup
1 medium sized onion
1-2 tbsp clarified butter or vegetable oil
1 egg yolk
480 g German Sauerkraut, ready cooked
1/2 liter vegetable broth or instant  – Make Vegetable Broth from scratch  –
200 Kassler (no bones), German smoked pork chops/ribs or alternatively use sausages
200 ml heavy cream
salt, fresh grated black pepper to taste
caraway seeds (optional)
1 bay leave
5 branches parsley
---
Box contains Sauerkraut – No Subscription Needed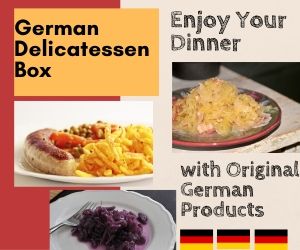 ---
Cooking Instructions German Sauerkraut Soup
– Peel onion and chop fine; saute in clarified butter until transparent.
– Drain Sauerkraut, chop coarsely, add to onions with bay leave.
– Add broth.
– Cover it and let simmer on low heat for 15 minutes.
– Cut Kassler in fine stripes, slice sausages, add them to soup. Keep in the soup for 5-10 minutes.
– Beat the egg yolk and mix it with the cream.
– While stirring mix it into the soup. Don't let the soup boil again other wise the egg yolk will became flaky.
– Spice with salt and pepper to taste, add caraway seeds and the chopped parsley. Decorate with some parsley leaves.
---