French recipes came to Germany especially along the Rhine because this part of the country used to be several times French and German. We are talking about the Alsace or Elsass in German.
One popular recipe is the German Speckkuchen – Quiche Lorraine in French.  Speck means bacon and kuchen cake, it's a zesty cake with bacon.  This is an authentic recipe as we make the Quiche Lorraine in Germany. Serve it with a glass of wine and a green salad. Happy Cooking!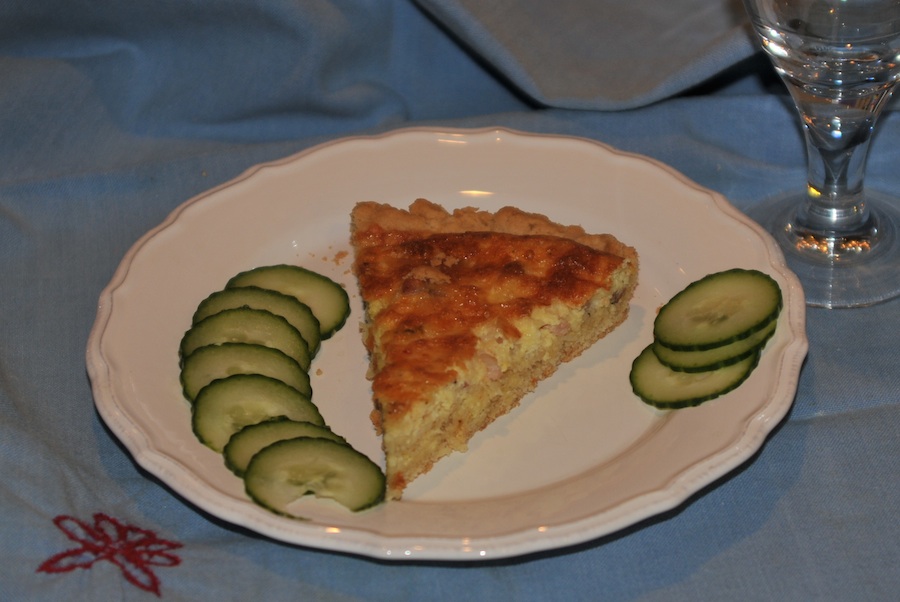 Ingredients German Speckkuchen – Quiche Lorraine
Dough
200 g flour
100 g butter
1 egg
1 tsp baking powder (not baking soda) Dr Oetker
½ tsp salt
Topping
3 eggs
1 cup heavy cream
200 g German ham or bacon
200 g grated cheese (Emmenthaler, Gruyere, Cheddar or your favorite grated cheese)
salt and pepper to taste
butter for the form
Cooking Instructions German Speckkuchen – Quiche Lorraine
– Mix flour with baking powder and salt.
– Add butter and egg, then knead with hands until you get a smooth dough.
– Wrap dough in foil and place it for at least 20 minutes in the fridge.
– Grease a quiche form with butter and form a 1 inch high border.
– Cut ham in small cubes and spread them on the dough.
– Mix eggs with heavy cream, salt and pepper and pour it over the dough.
– Add cheese on top.
– Bake it in pre-heated oven on 400 F (200 C) for 30 minutes.