Another German potato recipe: German Oven Potatoes – The alternative for baked potatoes and are served with a quark cream that contains fresh herbs. This German dish is very easy to make, you don't have to peel the potatoes, just add the spices, cut as directed and bake in the oven. Doen in 50 Minutes. It's a main dish served with the quark cream. Happy Cooking!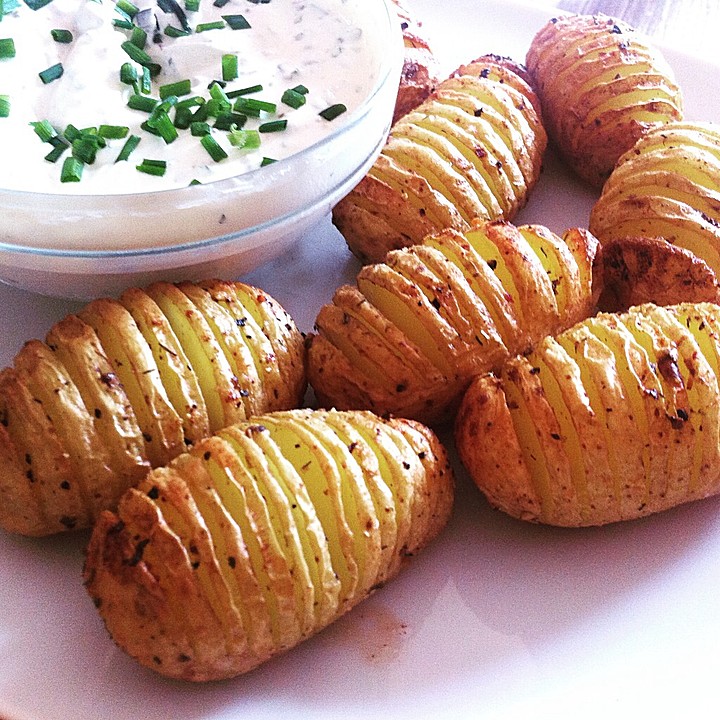 Ingredients German Oven Potatoes
800 g potatoes, medium size, yellow or Gold, the skin should not be too thick
200 g butter
3 garlic cloves, squeezed
1 tbsp rosemary, chopped fresh or dry
1 tsp salt
Cayenne pepper to taste
coarse salt to sprinkle on top
3 tbsp quark or alternatively Greek yogurt, sour cream –  How to make Quark –
For the quark:
parsley, chives, chopped
1 small onion, chopped fine
salt, pepper to taste
3 tbsp heavy cream
Cooking Instructions German Oven Potatoes
– Potatoes should be very clean, wash if needed. Find out on what side the potatoes are the best so you can cut them.
– From above cut about every 3 mm towards the bottom but don't cut to the end. The knife should be very sharp.
– Place them on a baling tray with parchment paper.
– Melt butter on low heat, avoid that butter gets brown. Add chopped garlic, rosemary, cayenne pepper and salt. Mix very well.
– On very low heat keep it warm and let sit for 5 min.
– Pre-heat oven to 425 F.
– Brush half of butter over the potatoes. After 25 min baking time brush remaining butter on potatoes.
– Place tray on middle rack – entire baking time is about 50 min or more depending on potatoes and oven. If the potatoes are bigger baking time will be longer.
Make the Quark
– Mix all ingredients for the quark cream, spice with salt and pepper to taste.
Before serving the potatoes sprinkle them with coarse salt and with the quark cream.
Source: chefkoch.de