Waffles are a classic brunch or breakfast addition and are not only very popular in the USA.  In Germany we love to make waffles. The German Waffles are awesome for breakfast, brunch or for coffee and cake in the afternoon, or what we call in German the "Kaffeeklatsch" (that means the usual gossip while sipping a cup of coffee with a piece of cake). In Germany you can get them on every fair or festival, served with powdered sugar, jam, fruit or Nutella. The regular American waffle irons make rectangle waffles but to be authentic they should be heart shaped. See photo at the bottom –  Happy Cooking!
Ingredients German Waffles
(for about 10 waffles)
250 g flour
125 g sugar ( or less for reduced sweetness)
1 package vanilla sugar 0.3oz – How to make Vanilla Sugar –
3 eggs
250 ml milk
1 tbsp baking powder
125 g butter (soft)
some drops of rum, vanilla or lemon flavor – as needed, optional
Baking Instructions German Waffles
– Beat the eggs, then add the butter until the batter is bubbly.
– Add sugar, vanilla sugar and some vanilla or (real) rum  flavor.
– Mix flour with baking powder, add to dough. If dough is a bit sticky, add some more milk until it is smooth.
– Heat the waffle maker.
– Scoop dough on the waffle maker, close it and wait until the waffles are done. The time depends on what waffle maker will be used.
– Keep waffles warm in the oven before you serve them.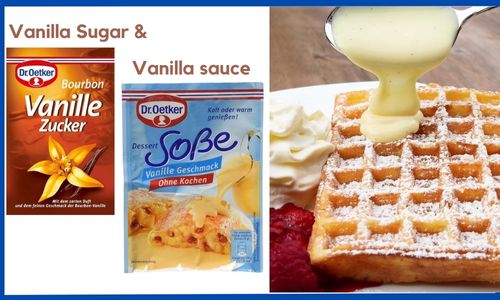 Waffles taste great with some cinnamon. Serve them warm and right from the waffle maker (they get soft if you keep them warm in the oven). In Germany we enjoy them with vanilla sauce, apple sauce or compotes, Nutella, fresh fruit, ice cream or whipped cream.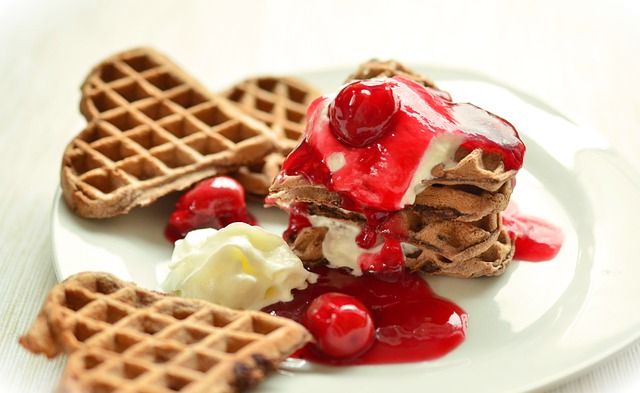 The typical Waffle maker in Germany makes heart shaped waffles. We found one on Amazon, see below…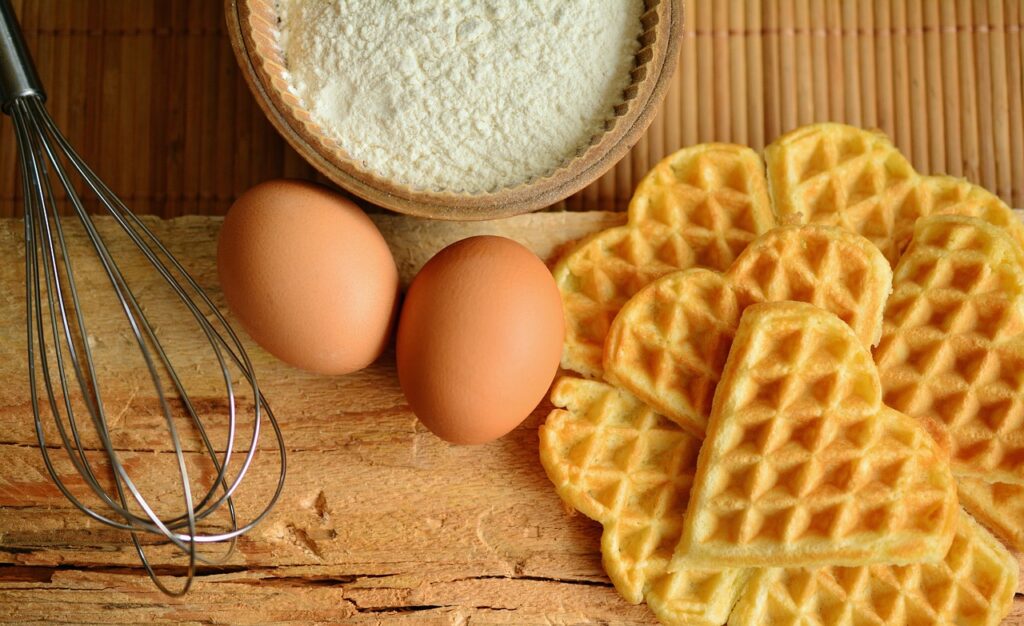 ---