You can find many different apple cake recipes in Germany. Today we feature an apple cake as you can find in Schleswig-Holstein, a province in the North of Germany. There you will see apple plantations with special apples, the so called "Cox Holstein" apple or Cox Orange Pippin. The Holstein Apple Cake recipe is using these apples and of course they are not available in the USA, so an apple that is slightly sour would be fine.
But you can get the tree for these fine and best cooking and baking apples. The Cox apple is actually a classic apple from England and originates from 1825.
Find the Cox apple tree here in an US nursery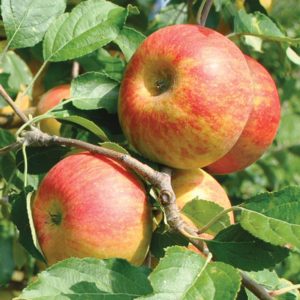 The recipe is also is using "Schmand" which is not available in the USA. We gathered some information for you so you can understand what Schmand is, and what would be a good substitute – Happy Baking!
Ingredients Holstein Apple Cake
350 g flour
1/4 tsp baking powder ( not baking soda)
200 g sugar
2 packages vanilla sugar, 0.6oz  – How to make vanilla sugar –
1 dash salt
175 g butter
4 eggs
5 tbsp almonds, chopped or sliced
1/4 tsp cinnamon
FILLING
200 g Schmand (Use alternatively sour cream, it works very well as a substitute)
(see info below)
1 package vanilla sauce Dr Oetker or 1 tbsp vanilla pudding powder
(Use alternatively 1-2 tbsp corn starch with 1 tsp vanilla extract)


5 apples, medium size
2 tbsp lemon juice
2  tbsp natural bread crumbs (should not contain any spices) – optional
---
German Dumplings in a Practical Pouch – Fast and Easy to Make
---
Baking Instructions Holstein Apple Cake
Make the Base Cake
– Cut 100 g butter into small cubes.
– In a bowl or on a wooden board mix 200 g flour, baking powder,  75 g sugar, 1 package vanilla sugar, salt, 100 g butter and 1 egg.
– Knead with hands until you get a smooth dough, form into a ball.
– Wrap dough in plastic wrap, keep about 30 min in the fridge.
Make the Streusel:
– Combine 150 g flour, 2 tbsp almonds, 75 g sugar, cinnamon, 75 g butter flakes and, if needed 2 tsp cold water
– Mix well until you get a crumbly dough.
Make the Filling:
– Mix Schmand or sour cream with 3 eggs, remaining sugar, 1 package vanilla sugar, and vanilla sauce or pudding powder.
– Peel apples, remove seeds and core, cut in small cubes, drizzle lemon juice over them.
– Grease a 28 cm or 10 inch spring from.
– Preheat oven to 350 F.
– Place dough on bottom of the form and 1/4 around the edges of the form.
– Poke the dough several times with a fork.
– Sprinkle with bread crumbs, and add apples on top.
– Add filling, then the streusel on top.
– At the end sprinkle chopped almonds over the cake.
– Bake in pre-heated oven for 55 min on 350 F.
Let cool off in the form, then release the take. Enjoy a piece with a cup of tea or coffee and whipped cream on top. Tastes very nice when it is still a bit warm.
What is Schmand?
As it is a lot like sour cream but has a lower fat content than Creme Fraiche. Schmand is the old name for "Cream".
It is used for many desserts, cakes recipes and in general for baking and cooking in Germany. Since schmand itself is not readily available in the United States (although it does exist here), you can use SOUR CREAM
Schmand is heavier, thicker and more sour in taste than crème fraîche. You mix the schmand with vanilla pudding to make the custard part of the cake.
The American sour cream is also good for cooking because it won't melt.
---
photo source: chefkoch.de