Here it is: Madeleines Original recipe. Madeleines are small cake alike cookies that are baked in special molds. Their form reminds of sea shells. They are often served hot at the popular French markets with a coffee in the morning, or at the 4pm goûter, the French equivalent of the British afternoon tea. Or you find them at Starbucks, and they are quite expensive.
Where are Madeleines originated?
There are different stories about these little cookies. One states that the name "Madeleine" originates from the French king Louis XV and are honoring his father in-law's cook named "Madeleine Paulmier". Louis first tasted them at the Chateau Commercy in Lorraine in 1755.
Another story says that the Madeleines were first baked by a pastry chef names Jean Avice, in the 19th century. The town of Commercy in Lorraine is quite associated with the madeleines (there are lots of manufacturers based there) and per a legend it first appeared in that city in the 1700s: A young girl called Madeleine stood in as pastry chef to the Duke of Lorraine, Stanislas Leszczyński, and the only thing she knew how to make was her grandmother's recipe. Because everyone loved the Madeleines the 'madeleine' was born.
Now let's go – Happy Baking!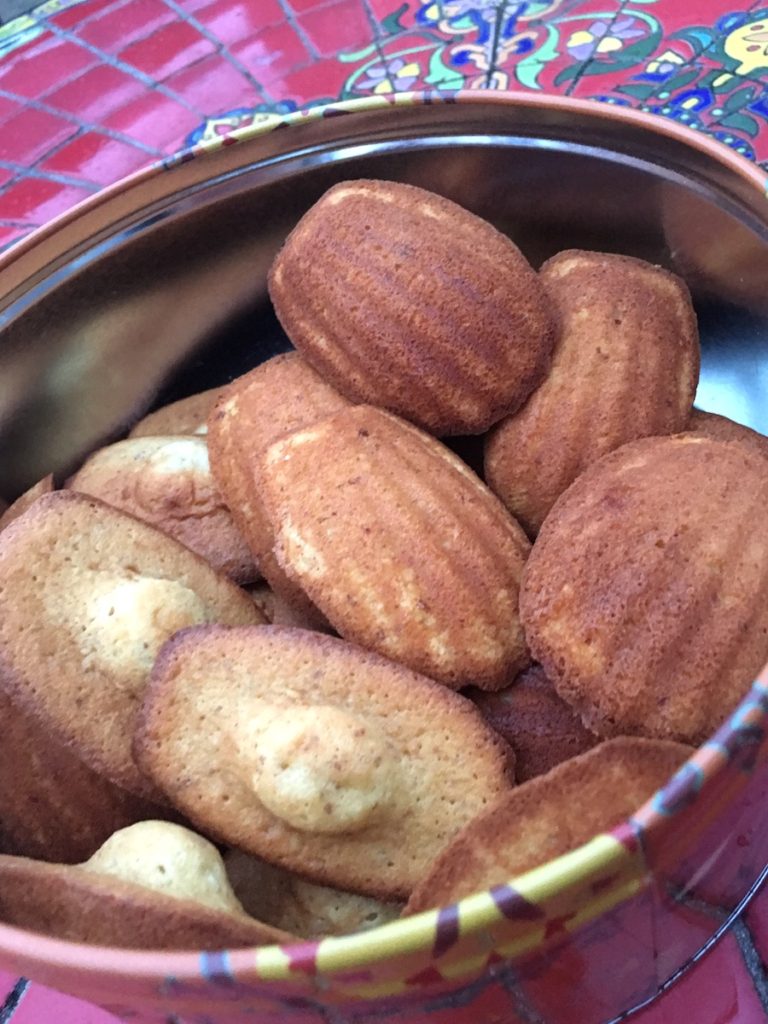 Ingredients Madeleines Original Recipe
(makes 20-24 Madeleines)
1 stick butter (ca 120 g)
40ml whole milk
1 tablespoon honey
2 eggs
85g fine sugar
135g flour, all purpose
1 tsp baking powder
Finely grated zest of 2/3 lemon
1 dash of salt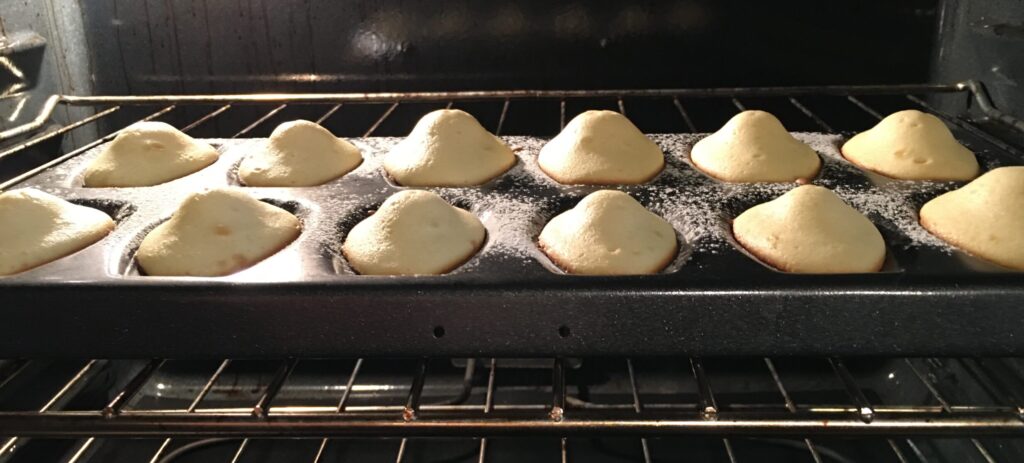 Baking Instructions Madeleines Original Recipe
Melt the butter in a small saucepan. Add milk and honey, stir well, then remove from heat.
Beat eggs and sugar with a hand mixer for 4-5 min, until you get a light yellow thickened and smooth mixture.
Meanwhile, combine flour, baking powder, salt and lemon zest in a small bowl.
Add the butter mix to egg mixture and fold until fully combined.
Gradually add a few tablespoons of the flour mix and fold gently until fully combined.
Cover the batter with plastic foil.
Keep in fridge for 45-1 hour. This is important because it will generate the bumps. I tried it, and won't keep dough it in the fridge, and it failed.
Preheat the oven to 375 F or 190°C.
Grease madeleines form generously with butter, and dust with flour. Remove excess flour.Wheat and Rye Flour Imported from Germany


With a spoon fill about 3/4 of each mold.
Bake for 6-10 minutes, depending on the size of your madeleines forms. They are done when they show a light yellow color and you see clearly a bump that is forming on the top. You can use a tooth pick and poke into one to see if no dough will stick on the tooth pick.
Remove from oven and let cool off a bit. Transfer madeleines onto a cooking rack.
---
---