Are you looking for a different way to make fried eggs? You will love this recipe. Simple fried eggs become colorful and are an eye catcher for the brunch table. What a great idea for Easter. No special ingredients needed. Serve with fried potatoes, Rösti or Hash Browns, fresh German bread or toast and/or a cabbage salad. Happy Cooking!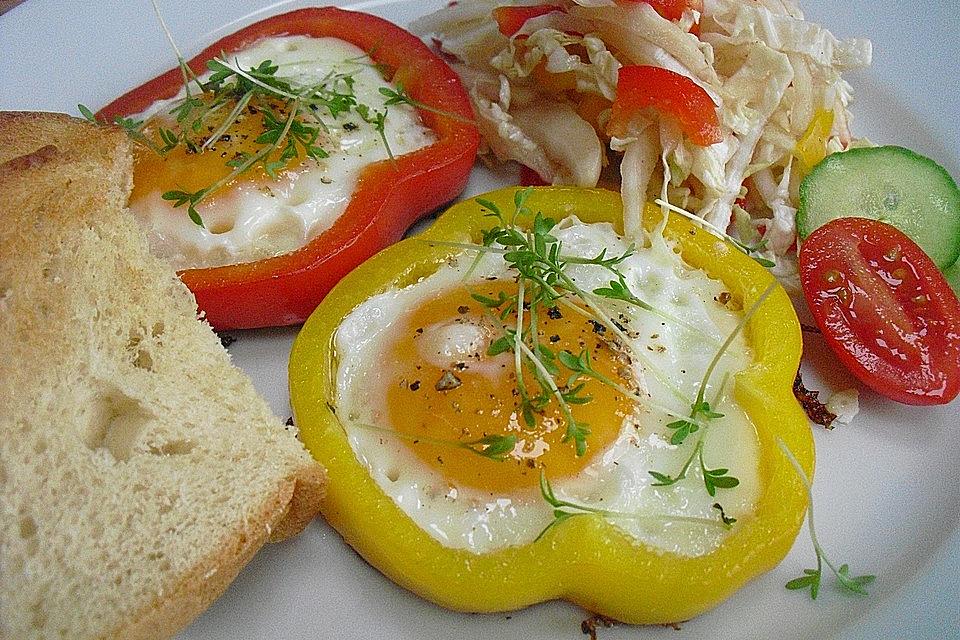 Ingredients Pepper Fried Eggs
1 pepper, any color is great
4 eggs
herbs such as chives, parsley, cress
salt, pepper, nutmeg, red paprika to taste
butter or vegetable oil for frying
Cooking Instructions Pepper Fried Eggs
– Wash pepper, dry with kitchen paper.
– Remove the seeds and the stem (cut off the top).
– Cut pepper in 1 inch thick rings.
– Melt butter or add oil into a non-stick pan.
– Place the pepper rings in the pan and in each ring add an egg.
– Sprinkle with herbs and spices.
---
The Best with German Fried Potatoes