The Pot Roast Schaschlik is a German recipe, and a different version to make the popular dish Schaschlik which is on skewers or can be cooked on the barbecue.  In this recipe the meat will be roasted in the oven. Find the recipe for the BBQ skewers below.
The best about the Pot Roast Schaschlik is the sauce. So if you ask me what is the best version, I would say it is the pot roast version. Pot Roast Schaschlik is actually a traditional snack from countries like Turkey, Russia, Hungary and Serbia.
It is difficult to get the "Zigeunersosse (spicy gypsy sauce) in the USA so you can make it yourself or use the ones from Knorr which is made in Germany. Try it out. Happy Cooking!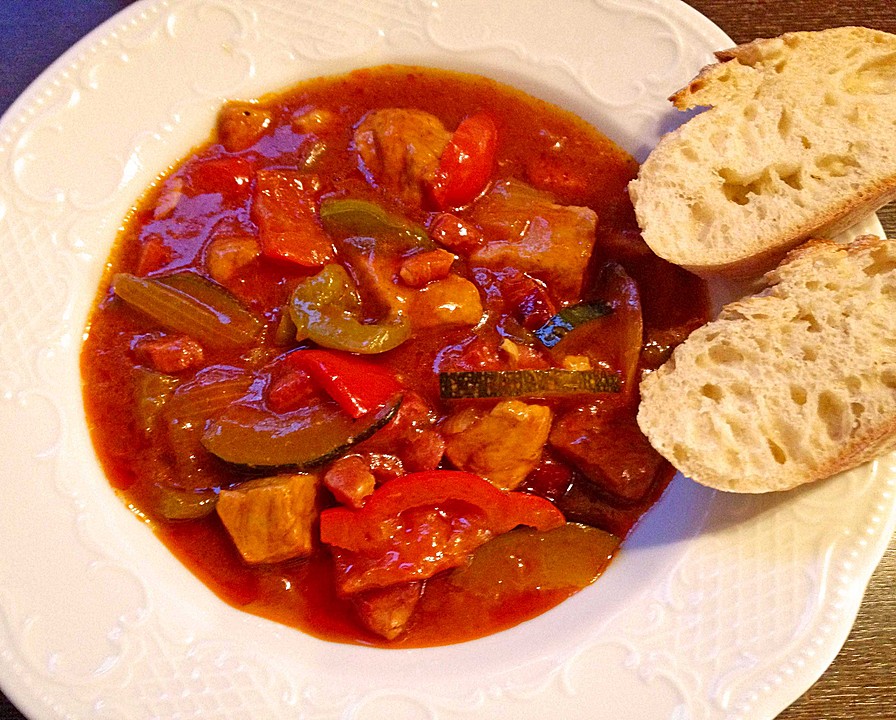 Ingredients Pot Roast Schaschlik
500 g pork, in cubes
250 g Speck (Bacon)
3 peppers (green, red, yellow)
2 onions
1 zucchini
250 g white or brown mushrooms
300 ml gipsy sauce (Zigeunersoße) – How to make Zigeuner-Gypsy Sauce –
Use alternatively the sauce from Knorr (see below)
salt, pepper, curry to taste
Subscription Free!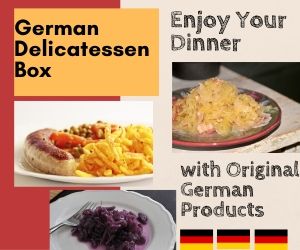 Cooking Instructions Pot Roast Schaschlik
– Cut meat and vegetable in bigger pieces (not too small).
– Brown onions and bacon in a fire proof pan thoroughly. No need to add additional oil because the bacon will leave enough grease.
– Place onions and bacon aside.
– Brown meat evenly on all sides on high heat in the same pan.
– Make the "Zigeunersauce" per instructions on the package or follow the recipe (link above).
– Add the onions and bacon to the meat, then add vegetables and the sauce. Spice as needed.
– If you are using the instant sauce from Knorr, you would add the powder with water after all ingredients had been browned.
– Cover with lid and place in oven for 1-1.5 hours on the lowest level on 200 C or 380 F.
Serve with rice, pasta or fresh baguette. Makes in ideal party dish!
---
– Go to Recipe Schaschlik Skewers for the BBQ –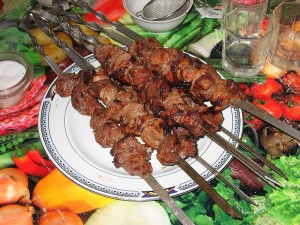 ---

Knorr Sauce Instructions in English
– Add 3/8l (12.68 oz.) water to meat, stir in the contents of the package and bring to a boil.
– Turn heat down to a simmer, cover and cook 1-1/2 hours, stir occasionally and add water as needed.

Ingredients Knorr Sauce: onions, flour (wheat, rice), 14% paprika, iodized table salt, starch, sugar, yeast extract, vegetable fat, caraway, garlic, marjoram, paprika extract, pepper, lemon juice powder, cayenne pepper, bay leaves.